Ho Chi Minh City officially reopens to tourists
Saturday, 17:39, 16/10/2021
VOV.VN - Ho Chi Minh City has officially reopened to welcome back tourists, with the local market set to play a key role in connecting localities whilst developing inter-regional routes and safe destinations under its tourism recovery roadmap.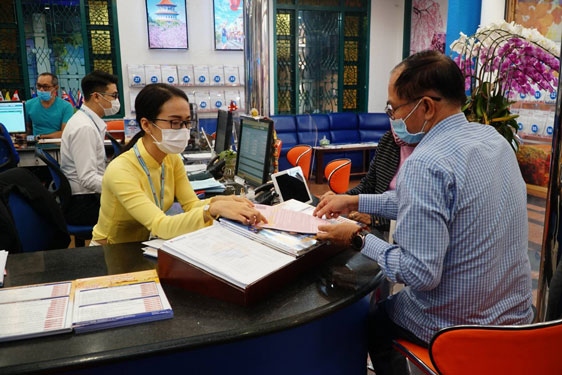 The move comes following the Ho Chi Minh City Department of Tourism announcing a scheme on October 16 in order to implement a plan aimed at restoring the southern city's tourism sector whilst safely adapting to COVID-19 pandemic.
The move will see the launch a programme which will issue 100,000 vouchers for frontline workers, while simultaneously signing a co-operation agreement between various tourism enterprises and destinations.
Nguyen Thi Anh Hoa, director of the Ho Chi Minh City Department of Tourism, revealed that the city's tourism industry will deploy a number of local tours throughout October and work alongside neighbouring localities to prepare inter-provincial tourism activities ahead in November.
She noted that a draft project has already been formulated in a bid to welcome international tourists in 2022, with the hope being that the city's tourism sector will be fully restored next year.
At present, various localities and businesses have recommended the Ministry of Culture, Sports and Tourism formulate a set of tourism safety criteria that can be applicable to the entire country.
Nguyen Asia, general director of Oxalis Company, revealed that he took a flight from Ho Chi Minh City to Quang Binh on October 15 in order to prepare to welcome the first group of six tourists from the city to Chay Lap Farmstay and the Oxalis tour following several months of suspension due to COVID-19 pandemic.
This represents a positive sign for the return of local tourism firms, especially the resumption of inter-provincial tours, he said, adding that the tour is being carried out in the form of a closed route as a means of ensuring the safety of visitors.
Local tour operator Vietravel went on to reveal that it will bring back more than 30 tour offices and travel services nationwide in line with the Government's Resolution aimed at adapting flexibly and safely to the new normal.
He explained that Vietravel has also worked alongside other localities in a bid to launch a series of tourism products which aim to serve tourists whilst meeting the safety criteria set out by the Ministry of Health.
In October, Vietravel will primarily focus on tours to green areas, such as Can Gio district in Ho Chi Minh City and tours under the Staycation model to Vung Tau and Tay Ninh. This is along with repatriation tours to welcome Vietnamese people back home or experts coming to the nation to work.
Moving forward to November, the company will expand inter-regional products by road from Ho Chi Minh City to Phan Thiet, Nha Trang, Da Lat, and the western region, as well as tours via air routes which will focus popular tourism sites such as Phu Quoc, Quy Nhon, Da Nang, Hue, and Ha Long.
Travel firms are therefore being encouraged to develop fresh tourism products in the direction of closed tours, with a focus on eco-tourism, healthcare tourism, outdoor sightseeing, and unique experiences of local culture.
Tran The Dung, general director of Fiditour Travel Company, also underlined the need to quickly devise a set of safety criteria which can be put into place throughout the whole nation to rapidly restore the local tourism industry.