Diverse events planned to mark Vietnam-France diplomatic ties
Tuesday, 18:13, 14/03/2023
VOV.VN - A series of cultural events will be held in April to mark 50 years of diplomatic ties and 10 years of the strategic partnership between Vietnam and France, said French Ambassador to Vietnam Nicolas Warnery at a press briefing in Hanoi on March 14.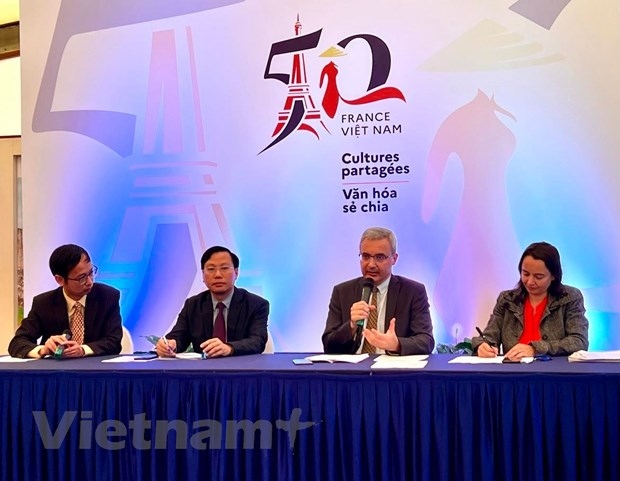 Warnery highlighted the project Photo Hanoi 2023, including seminars and talks on the art of photography, saying Hanoi boasts great potential to become a prime Asian city for photography in the future.
He revealed that many famous artists and experts from France will come to Vietnam in order to participate in various art performances, cultural exchanges, and heritage preservation programmes moving forward.
The highlight of the events will be a conference on Vietnam-France cooperation which is scheduled for April 13 to 15 in Hanoi, where both sides will touch upon issues related to sustainable urban and rural development, heritage cooperation, and tourism promotion.
The event is expected to provide an ideal opportunity for representatives of localities of both countries as they seek to establish partnerships and propose ideas and solutions for existing challenges, he said.
Furthermore, the "Balade en France" (Walk around France) festival is set to take place at the Ly Thai To Square area and the pedestrian streets of Hoan Kiem Lake from April 14 to 16, with visitors having the chance to gain greater insights into French cuisine, art, and culture.
The Hanoi People's Committee will organise the "Colors of Vietnam" space at the Hoan Kiem Lake area as part of efforts to elevate the image of Vietnam to international friends.
In Ho Chi Minh City, a number of food festivals have been also planned to help the public explore a range of authentic French wines and dishes.
In particular, Guillaume Gomez, former chef of the Elysee Palace, who is in charge of cooking for the French President, will come to Vietnam to take part in some of the events.
The French Embassy will also coordinate to organise the fashion show "Mode et Design" in Ho Chi Minh City, the musical "The Little Prince" at the Hanoi Opera House, and a music-light performance festival in the Hue Imperial Citadel area.