Vietnamese ethnic minority groups' culture introduced in France
Friday, 12:33, 10/02/2023
Costumes of the Mong, Giay, and Tay people, jewelry of the Thai and Dao people, and tools of daily work of many ethnic minority groups in Vietnam are being displayed in an exhibition at Saintes city's multimedia library in France.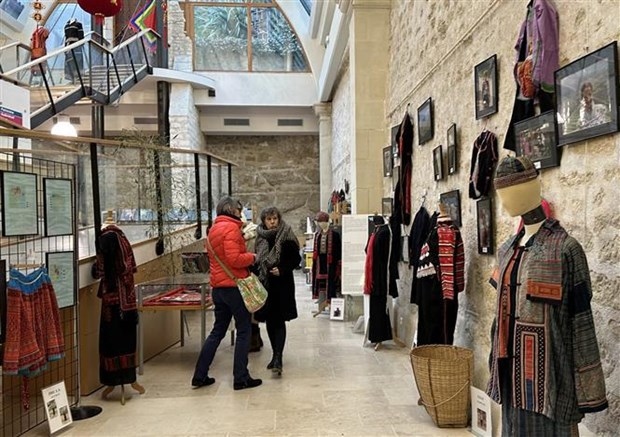 The exhibits were collected by Alain Dussarps, Vice President of the French-Vietnam Friendship Association (AAFV), in his visits to Vietnam. This is the first time these unique items have been introduced in Saintes, leaving a good impression on visitors.

The exhibition is one of the activities of the programme "Le Vietnam s'invite à Saintes" (Vietnam comes to Saintes) to introduce Vietnamese culture to local people within the framework of a programme organised by Association Vietnam 17 to celebrate the 50th founding anniversary of diplomatic ties between the two countries.

Nhung Lehoux, President of Association Vietnam 17, underlined the importance of preserving and promoting traditional culture values of ethnic minority groups of Vietnam, hoping that more French visitors and overseas Vietnamese will visit Vietnam to  explore and experience the country's culture.

As scheduled, a chain of cultural events will be held in the framework of "Le Vietnam s'invite à Saintes" programme with a wide range of activities, including film screenings, reading Vietnamese fairy tales for children, tourism seminars, economic talks, and performances of ethnic musical instruments, among others.

The programme will be organised by Association Vietnam 17 in collaboration with the authority of Saintes, and the Vietnamese Embassy in France.

Ambassador to France Dinh Toan Thang spoke highly of the association's initiative to organise the event, saying that the activity will contribute to honouring Vietnam's traditional culture and beauty, thus tightening the friendship and mutual understanding between the people of Saintes and French friends and Vietnamese people.