Vietnam and France cooperate in preserving Hue imperial relic complex
Thursday, 18:33, 16/02/2023
VOV.VN - The Hue Monuments Conservation Center and the French School of the Far East (EFEO) on February 16 signed an agreement aimed at preserving cultural heritage in the Hue imperial relic complex.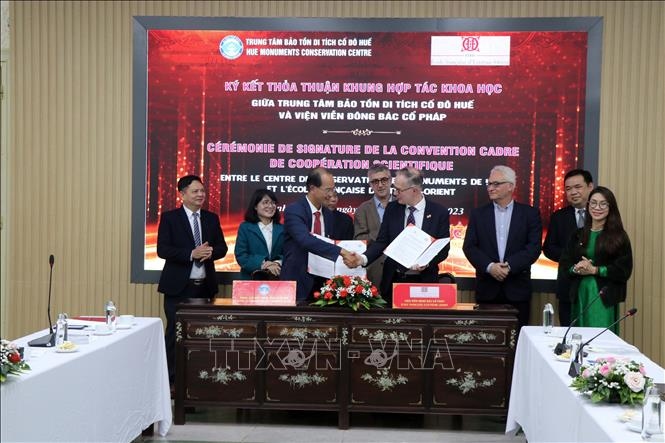 The deal will see both sides cooperate in research on cultural heritage conservation, jointly chair academic symposiums, organise exhibitions, and exchange documents and other data relating to Vietnamese history and culture researched by French and Vietnamese scholars.
The two sides will also share documents and images related to the cultural heritages of Hue and the Nguyen Dynasty, many of which have been archived in both France and Vietnam, while simultaneously building electronic databases and digitised data on cultural heritage.
They will strive to ramp up collaboration in human resource training to improve capacity in research, collection, and archiving of documents.
Hoang Viet Trung, director of the Hue Monuments Conservation Center, said that the relic complex was recognised by UNESCO as a World Cultural Heritage 30 years ago, and the work of restoration has achieved important results so far.
However, due to the damage caused by conflict, many palace buildings inside the relic site have been completely destroyed. The centre therefore wishes to receive support from the EFEO in sharing photographic archives as the basis for the construction of restoration projects.
Nicolas Fiévé, director of the EFEO, said that the Institute is willing to share images and documents related to the Nguyen Dynasty in the archives, while introducing the Hue Monuments Conservation Center to other large French organisations of the historical image archive to help preserve and promote the value of Vietnamese heritage.