Recent holiday sees tourism boom two years after pandemic
Wednesday, 11:59, 11/05/2022
The five million tourists during the recent four-day April-May holiday have helped the tourism industry recover.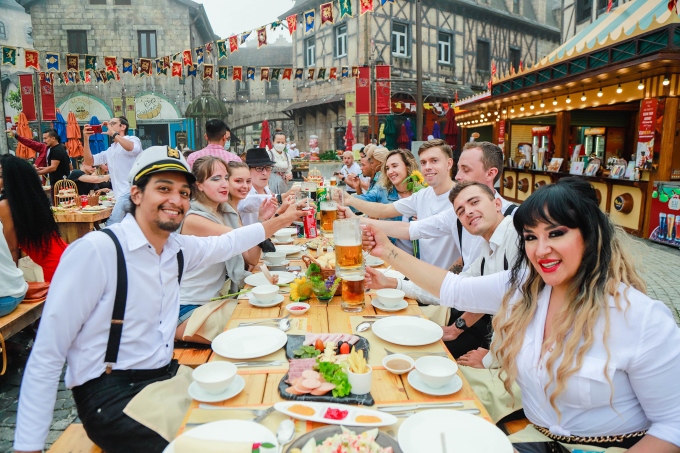 The Vietnam National Administration of Tourism (VNAT) said during the four days the tourism sector served about 5 million domestic travelers, including 2 million travelers staying overnight at accommodation establishments. Total revenue from tourism reached VND22 trillion.
The occupancy rate at tourism sites was 60%-100%. Beaches, attractions and restaurants were full of groups of travelers during the holiday.
Nguyen Cong Hoan, CEO of Flamingo Redtours, said: "The sharp rise in number of travelers during the holiday is a good sign, which shows the strong recovery of the tourism industry and helps businesses to regain pre-pandemic growth."
Analysts said that organizing many large-scale events and tourism activities in localities and at large tourism centers, plus new tourism products throughout the country, helped to revive the industry.
In Sa Pa, in Lao Cai province, the Fansipan Rose Festival, the fourth Horse Hooves in the Cloud tournament within the framework of the festival, the Sa Pa Love Market and a number of other events helped the locality attract 98,000 travelers, an increase of 755% over 2020 and 225% over 2021. 
Ha Long Bay attracted a high number of tourists thanks to Carnaval Ha Long, yacht night street at Ha Long International Passenger Port and many exciting discoveries at Sun World Halong Complex.
In Da Nang, a number of festivals and big events on Han riverside, such as Beer Festival 2022, the show Battle in the Moon Kingdom on Ba Na Mount, and Light up the sky at Sky 36, attracted crowds. Sun World Ba Na Hills launched a series of high-quality products, such as Sun God Waterfall, Time Gate and Moon Castle.
Phu Quoc also attracted travelers thanks to a series of new experiences, especially Hon Thom Paradyse Night. This was a package which featured the most interesting and original things about the island.
Tourists could take Hon Thom cable car to have a view of the entire Phu Quoc sea and islands, enjoy time at Aquatopia, the leading water park in Asia, and play thrilling games launched for the first time in Vietnam, and indulge their taste with specialties at BBQ parties on the beach or at Coconut Garden music space and a special performance of international dancers.
Nguyen Vu Khac Huy, CEO of Vina Phu Quoc Travel, Deputy Chair of the Kien Giang provincial Tourism Association, said in previous years, Phu Quoc was only crowded during holidays but now it is busy even on the days before, during and after long holidays.
"The increase in number of tourists has helped travel firms recover strongly. I believe the tourism industry will regain its golden days," Huy said.
Phu Quoc attracts tourists not only thanks to beautiful landscapes but also to high-end entertainment items, such as Hon Thom cable car, Safari and a casino. These efforts changed the face of Phu Quoc and helped the locality become one of the hottest destinations in the country.
The sharp increase in the number of travelers to localities in the country is an important lever that will help the economy prosper.
Nguyen Lam An, Deputy CEO of Sung World and Director of Ba Na Cable Car, said once tourism recovers, supporting services can develop rapidly and allow thousands of workers who lost jobs during the pandemic to return to work.
"Tourism enriches the country. Vietnamese now can take pride in many high-class works such as the Golden Gate in Da Nang, Sun God Waterfall at Ba Na Hills and InterContinental Da Nang Sun Peninsula Resort in Da Nang. Many localities have become more beautiful and wealthier thanks to tourism development, such as Da Nang, Quang Ninh and Phu Quoc," he said.