Vietnam sets new record for gold medals at SEA Games
Monday, 11:52, 23/05/2022
VOV.VN - Vietnam achieved a magnificent feat by winning 205 gold, 125 silver, and 116 bronze medals to top the SEA Games 31 medal tally, setting a new record in the competition's history.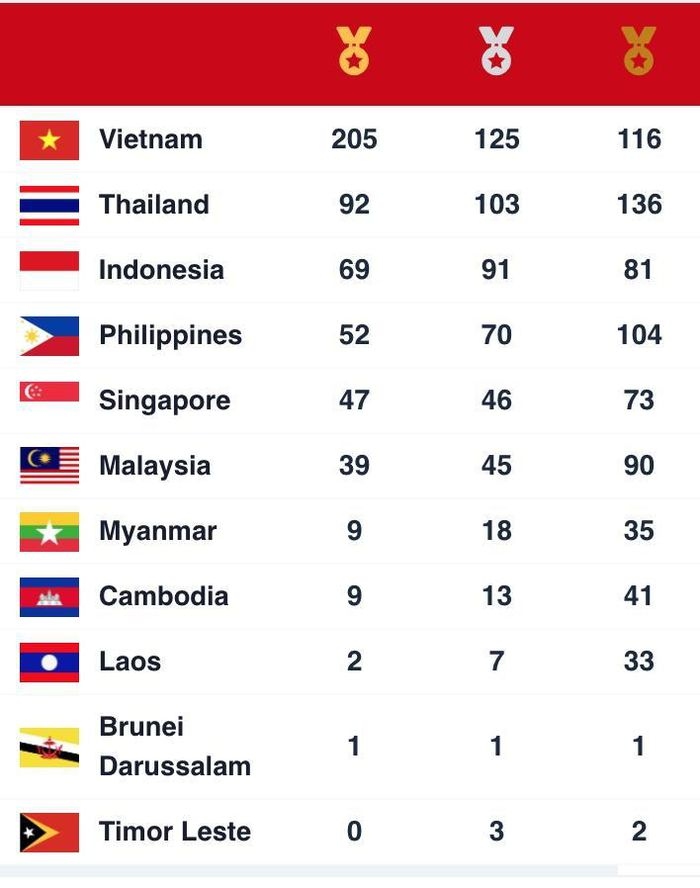 Vietnam's U23 side outplayed their Thai opponents 1-0 in the final match on May 22 evening, securing a gold medal and also the last gold of the regional games this year.
By winning a total of 205 golds, hosts Vietnam broke the 19th SEA Games record that Indonesia set in 1997 when they clinched 194 golds.
The hosts surpassed the 195-gold mark as of 5pm on May 22, and they later grabbed more golds in diving, boxing, muay, shooting, and football.
It's noteworthy that local track-and-field athletes retained their top place in Southeast Asia, pocketing 22 golds. Other sports bringing back many golds for Vietnam were wrestling (17), swimming (11), Wushu (10), Taekwondo (9), Canoeing (8), Kurash (7), Pencak Silat (6), Karate (7), and Chess (7).
Swimmer Nguyen Huy Hoang and track-and-field athlete Nguyen Thi Oanh were honoured as the best athletes competing at SEA Games 31, alongside Singaporean swimmer Jing Wen Quah and Thai track-and-field athlete Joshua Robert Atkinson.
The local runner won three golds in the women's 1,000m, 5,000m, and 3,000m steeplechase, in which she broke her own record set back in the previous SEA Games.
In addition, Hoang personally pocketed four gold medals, setting two new SEA Games records and contributing to the victory of the Vietnamese swimming team in the men's 4x100m relay.
In football, the men's team set an incredible record of winning the championship title without conceding a single goal. Meanwhile, the women's team also excelled as they defeated Thailand and defended their championship title for the seventh consecutive time.
The success is attributed to Vietnam's proper investment in sports, with many of them competed at the Olympics, according to Deputy Prime Minister Vu Duc Dam, who is head of the National Steering Committee for Organising SEA Games 31.
SEA Games 31 will officially conclude in Hanoi on May 23 evening after 12 days of exciting competition. Vietnam is set to hand over the flag of the Southeast Asian Games Federation to Cambodia which will host SEA Games 32 in 2023.