Brazil trounce Vietnam 9-1 in FIFA Futsal World Cup 2021 opener
Tuesday, 08:04, 14/09/2021
VOV.VN - Pivot Ferrao scored four goals, helping five-time World Cup champions Brazil outplay underdogs Vietnam 9-1 in their opening game of the FIFA Futsal World Cup 2021 in Lithuania on September 13.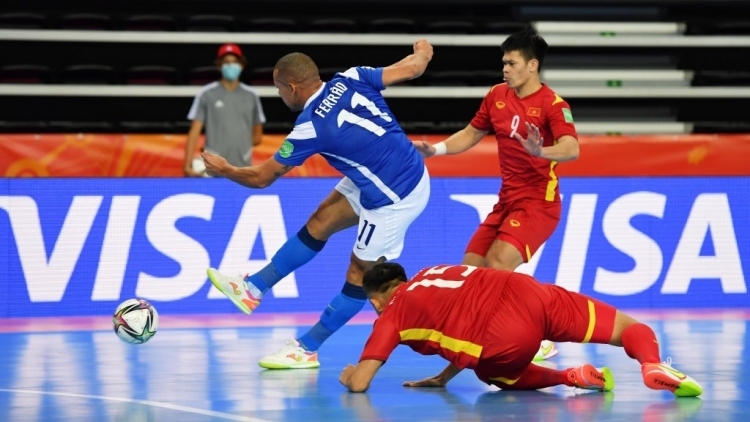 The result of the match was never in doubt as defending champions Brazilians proved too strong compared to their opponents coming from Southeast Asia. The South American team that have competed at the FIFA Futsal World Cup finals nine times and lifted the trophy five times, brought to Lithuania many scoring men, including pivo Ferrao.
Meanwhile, this is the second time Vietnam has entered the final round of the World Cup. Winning a ticket to the World Cup finals is a success beyond expectations for coach Pham Minh Giang and his players.
It came as no surprise that Brazilians started the game with a pressing tactic, pushing back their opponents in a defensive position. Only in the first half, the defending champions scored 5 goals, including two made by Ferrao.
They continued to maintain their advantageous pressing tactic in the second half, getting another four goals, with the World's Best Futsal player Ferrao hammering home twice.
In such a match, the Vietnamese team got a memorable goal in the first half. Captain Tran Van Vu moved rationally to block a Brazilian player, creating conditions for Khong Dinh Hung to whipping the ball into the corner of the net.
On September 16 Vietnam are scheduled to take on Panama that were stunned by the Czech Republic 0-5 in their Group D match opener.