Vietnam yet to approve homegrown Nano Covax vaccine
Monday, 07:31, 30/08/2021
VOV.VN - The Advisory Council for the Registration of Circulation of Drugs and Medicinal Ingredients on August 29 did not approve Nano Covax, the first locally produced COVID-19 vaccine, and requested additional data to ensure the vaccine is completely safe and effective.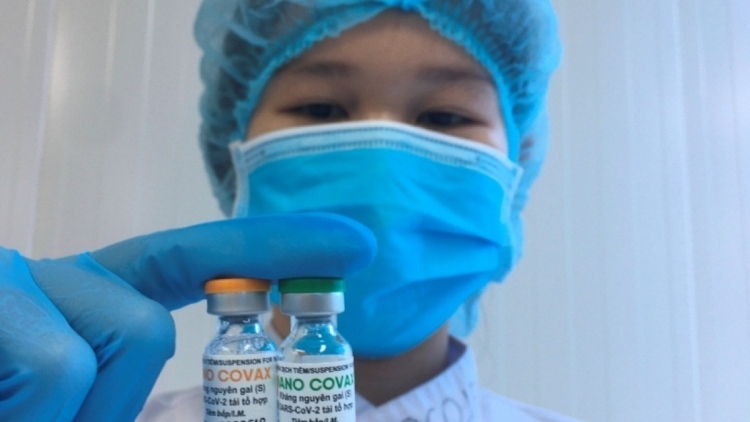 The Advisory Council acknowledged the results that Nanogen Pharmaceutical Biotechnology JSC, the developer of the vaccine, has achieved in conducting its human clinical trials, which have been approved by the National Committee for Ethics in Biomedical Research under the Ministry of Health (MoH).
However, the council requested that Nanogen and its research team supplement and clarify some contents relating to the safety, immunogenicity and protective efficacy of the vaccine.
Members of the council said they need to get more data to see if Nano Covax is effective against mutated strains of the SARS-CoV-2 virus like Delta, Alpha and others.
They also requested that Nanogen and its research team analyze and discuss the relationship between the immunogenicity of the vaccine and the protective efficacy of at least 50% according to the World Health Organization.
Nano Covax, a recombinant spike protein vaccine, is Vietnam's first COVID-19 vaccine in clinical trials, starting from December 17, 2020.
Nanogen has completed phase 3a of the trial and is gathering data from phase 3b. Nearly 14,000 people have volunteered to take part in the three phases of the trials. Recently, the National Committee for Ethics in Biomedical Research approved the results of phase 3a.
As COVID-19 vaccines are in short supply globally, Nanogen has submitted a document to the Prime Minister and the Ministry of Health asking for approval for the vaccine.
However, the Ministry of Health did not agree with the proposal, saying it needs more scientific data from the trials.
Besides Nano Covax, Covivac, another locally produced vaccine developed by Institute of Vaccines and Biologic Medical, is entering the second phase of its trials,
Vietnam is also testing the ARCT-154 vaccine using on Arcturus' STARR mRNA technology transferred by the United States.