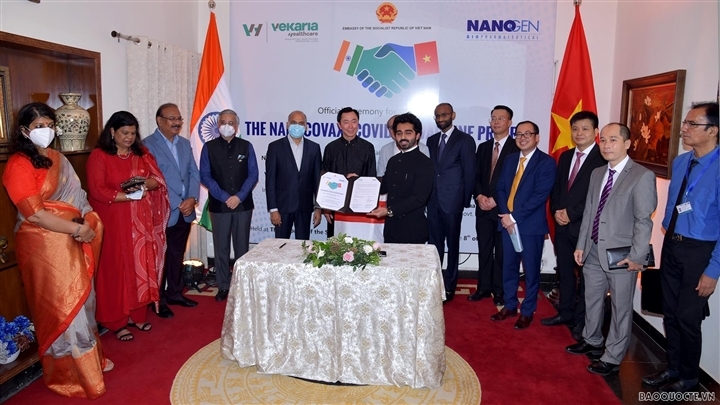 Signatories to the agreement were Yogendra Vekaria, managing director of Vekaria Healthcare LLP, and Ho Nhan, general director of Nanogen Pharmaceutical Biotechnology JSC.
The signing of the agreement is anticipated to provide the basis for future co-operation regarding the production and distribution of the Nano Covax vaccine on a mass scale.
Nano Covax is a locally-produced COVID-19 vaccine that has been researched and developed by Nanogen Pharmaceutical Biotechnology JSC. The Vietnamese vaccine is currently in its third phase of clinical trials and has so far yielded positive results.
At present, Nanogen has co-ordinated with relevant agencies aimed at speeding up the clinical trial process in order to receive permission for the vaccine to be used soon in Vietnam.
Addressing the signing ceremony, Vietnamese Ambassador to India Pham Sanh Chau affirmed that the co-operation programme between the two companies is of great significance, particularly in the context of the pandemic raging in India, Vietnam, and other nations globally.
The introduction of the Nano Covax vaccine into production and distribution will serve to greatly contribute to eradicating the pandemic in the near future,  Ambassador Chau noted.