Vietnam wins two major international prizes on road safety
Wednesday, 17:25, 21/09/2022
VOV.VN - The Vietnamese National Traffic Safety Committee (NTSC) and the Ministry of Education and Training (MoET) on September 21 received the 2020 Prince Michael International Road Safety Award for their efforts to improve road safety in Vietnam and globally.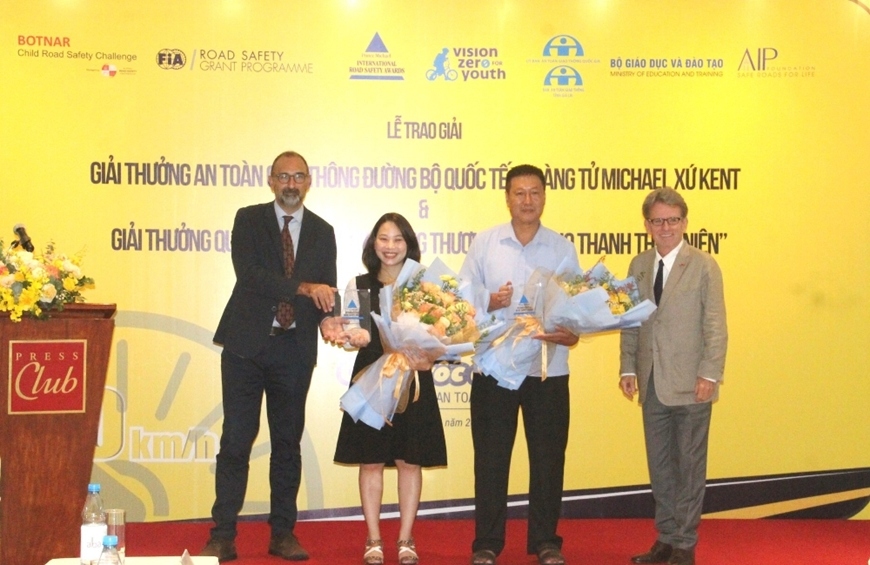 Though initially awarded in November, 2021, due to the pandemic the annual ceremony was not held until this year.
Between 2018 and 2020 the NTSC and MoET played a critical role in supporting the pilot programme "Slow Zones, Safe Zones" which primarily focused on reducing speeds in school zones in Pleiku in Gia Lai province.
The programme was implemented in partnership with AIP Foundation and the local government of Gia Lai, and managed by the Global Road Safety Partnership and funded by Fondation Botnar. It delivered comprehensive safety interventions and secured a legislative decision that reduced the speed limit around school zones to 30 km/h in Pleiku.
Furthermore, the administrations of Gia Lai province and of Pleiku city also received the 2022 Vision Zero for Youth Leadership Award for their impressive work aimed at improving road safety for youth.
Led by the National Center for Safe Routes to School with support from the FIA Foundation, the International Vision Zero for Youth Leadership Award recognises the noteworthy road safety practices that can inspire other cities. This includes taking bold steps to reach zero traffic deaths among children and youth in their communities.
The Slow Zones, Safe Zones programme, originally launched in 2018, makes use of a multi-pronged approach that includes the construction of tailored school-zone modifications, public awareness campaigns, law enforcement initiatives, legislative advocacy, and the development of a Traffic Safety E-curriculum.
The programme started with two schools and eventually reached all 31 primary schools in Pleiku.
The Pleiku project can be replicated both in national and global contexts. Key elements include using evidence-based systems for data collection, such as the iRAP Star Ratings for Schools app, developing local capacity in applying these technologies, improving infrastructures and school zone environment, as well as forming partnerships across the public and private sectors. This is in addition to launching awareness campaigns designed to mobilise the public and demonstrating the proven value of investing in road safety at different levels.