Vietnam to have at least one homegrown COVID-19 vaccine by year-end
Tuesday, 19:57, 14/09/2021
VOV.VN - By the end of this year Vietnam will have at least one locally-produced COVID-19 vaccine which will be licensed and inoculated for local people from the start of early 2022, according to the Ministry of Health (MoH).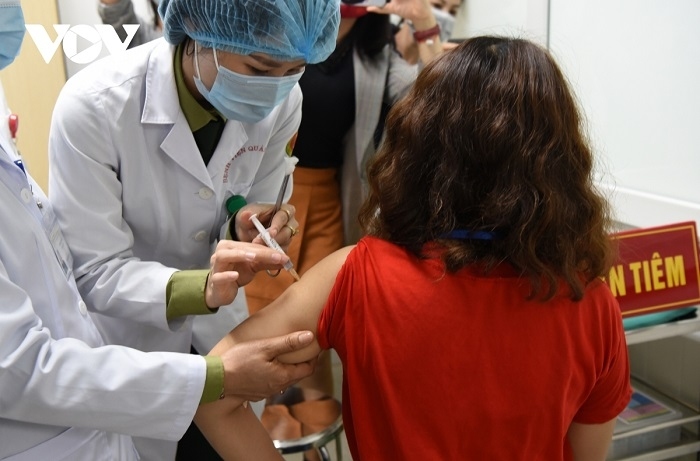 Deputy Health Minister Tran Van Thuan said on September 14 that Nano Covax, one of the two homegrown vaccines against COVID-19, is entering the third phase of its human clinical trials.
The phase 3a has been completed and its results have been submitted to the MoH for appraisals. Initial results show the vaccine fully meets all safety and immunogenicity requirements.
However, the MoH's Advisory Council for the Registration of Circulation of Drugs and Medicinal Ingredients did not approve the results during a meeting two weeks ago, saying they needed more scientific data to show the  vaccine proves effective against mutated strains of the SARS-CoV-2 virus like Delta, Alpha and others.
Nanogen Pharmaceutical Biotechnology JSC, the developer of the virus, and its research team on September 14 submitted additional data in their report to the council. Health experts are scheduled to meet on September 15 to evaluate the report.
The MoH will appraise assessment reports of phase 3a and 3b before coming to a conclusion, said Dr. Nguyen Ngo Quang, deputy head of the Science-Technology and Training Department under the MoH.
Nanogen had previously submitted a document to the Prime Minister and the MoH requesting for a permission to license Nano Covax for emergency use in Vietnam. However, MoH health experts said they need more time and more scientific data to prove the vaccine is completely safe and effective against the virus.
Vietnam is the first country in Southeast Asia that has conducted the third phase of human trials of a homegrown COVID-19 vaccine.
Another homegrown vaccine Covivac produced by the National Institute of Hygiene and Epidemiology is entering the second phase of its human clinical trials.
Vietnam is also testing ARCT-154, a vaccine based on Arcturus' STARR mRNA technology developed by Arcturus Therapeutics medicines biotechnology company of the US, to see if it is effective against the mutated strain of the Delta variant.