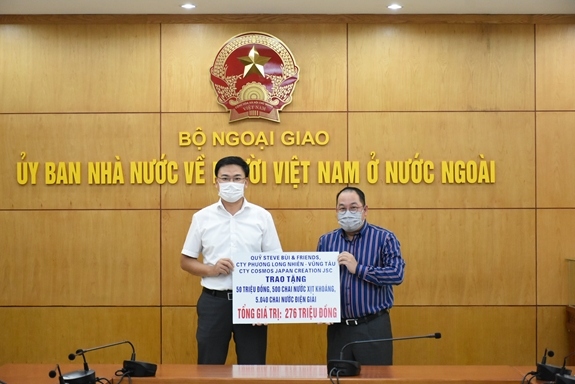 The enterprises include Phuong Long Nhien Company - Vung Tau and Cosmos Japan Creation JSC.
During the event, relevant stakeholders handed over cash worth VND50 million to support the COVID-19 Vaccine Fund, donated 500 bottles of mineral water worth VND100 million, and 5,040 bottles of electrolyte water worth VND126 million.
These donations aim to assist frontline health workers in their battle against the pandemic in the northern provinces of Bac Giang and Bac Ninh.
Deputy Minister of Foreign Affairs Pham Quang Hieu, who is also serving as chairman of the State Committee on Overseas Vietnamese, highlighted the significance of these timely contributions given by overseas businesses to domestic pandemic prevention activities.
The move sees huge donations made to the COVID-19 vaccine fund in response to recent appeals from the State President, the Prime Minister, the Vietnam Fatherland Front Central Committee.
Deputy Minister Hieu emphasized that the State Committee for Overseas Vietnamese will transfer the proceeds to the COVID-19 vaccine fund and other essential supplies to frontline health workers in some areas which have been worst hit by the pandemic.
Following the official launch of the COVID-19 vaccine fund  on June 5, the fund has so far received strong support from domestic and foreign organisations, including the Vietnamese communities in countries such as the United States, Egypt, Mozambique, Cambodia, Thailand, Singapore, Laos, Germany, Russia, and Switzerland.