Health Ministry allows COVID-19 vaccinations for kids
Thursday, 22:43, 14/10/2021
VOV.VN - The Ministry of Health on October 14 allowed localities to vaccinate children aged 12 to 18 against the SARS-CoV-2 virus.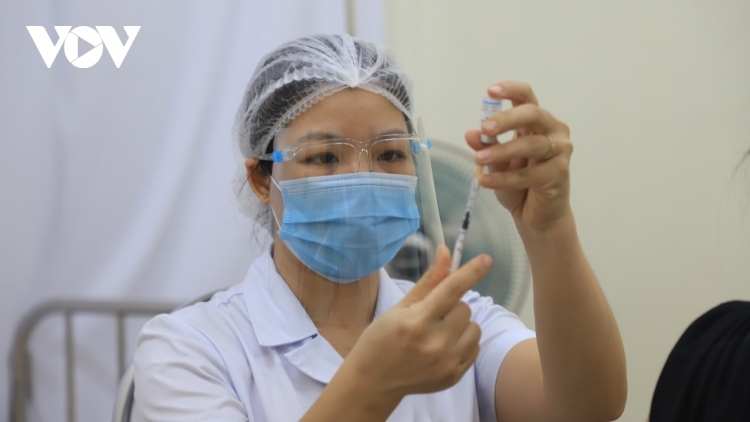 In a dispatch to localities, the ministry said for the time being priority will be given to vaccinations for children aged 16 to 18, and kids in other age brackets will receive shots depending on vaccine supplies and pandemic developments in localities.
Vaccines to be used for kids must be approved by the Ministry of Health, and doctors must follow vaccine manufacturers' instructions. Kids will receive two doses of the same vaccine with the interval subject to the manufacturer's instructions.
In its document, the Ministry of Health did not specify what vaccines would be used for kids.
In the world, the Pfizer vaccine called Comirnaty has been approved by the US Food and Drug Administration for emergency use in children aged 12 and above.
The Pfizer-BioNTech COVID-19 vaccine requires two injections given 21 days apart. The second dose can be given up to six weeks after the first dose, if needed.
Research has shown that the Pfizer vaccine is 100% effective in preventing COVID-19 in children aged 12 through 15. The vaccine is 91% effective in preventing severe illness with COVID-19 in people aged 16 and older.
Research has also indicated that the vaccine is 96% effective at preventing severe disease with COVID-19 caused by the Delta variant, the most common COVID-19 variant in the world.
Vietnam has signed a contract to purchase 20 million doses of the Pfizer vaccine for children. Yet, it's unknown when the vaccine will be delivered to Vietnam.
During a working trip to the US in September 2021, Vietnamese State President Nguyen Xuan Phuc visited Pfizer's headquarters in New York. Phuc was assured by Jonathan Selib, senior vice president of Pfizer, that the firm will provide Vietnam with 31 million doses of its vaccine for adults this year, and 20 million doses for children as soon as the vaccine is approved.
On Phuc's visit to Cuba earlier, Vietnam also reached a contract to purchase 10 million doses of its Abdala vaccine for children. It has asked the Cuban manufacturer to soon send a dossier on the vaccine for evaluation.