COVID-19: Vietnam records over 8,300 new cases, 296 more deaths
Friday, 19:41, 06/08/2021
VOV.VN - An additional 4,315 coronavirus cases have been recorded in Vietnam during the past 12 hours, raising the country's daily caseload to 8,324, according to the Ministry of Health (MoH).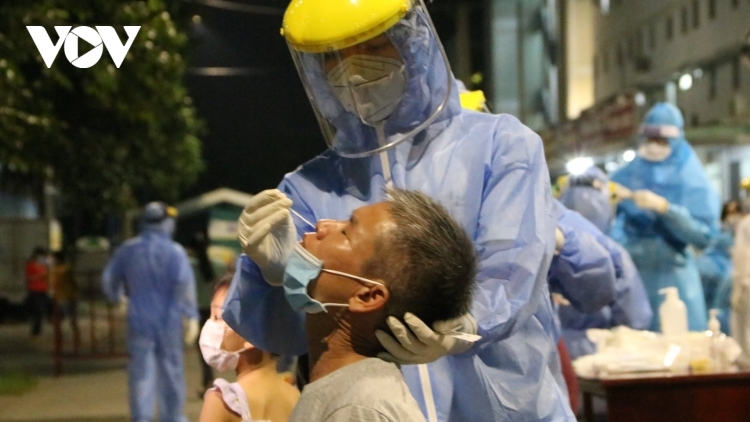 Of the newly detected cases, 4,311 were locally acquired and four were imported, the MoH said in its 06.00pm coronavirus update on August 6.
About 663 cases were documented in the community through random testing or test screening at healthcare facilities, while the rest were diagnosed in quarantine or lockdown areas.
Ho Chi Minh City, the largest coronavirus hotspot in Vietnam, led all cities and provinces in infection numbers, at 1,497.
It was followed by Binh Duong 847, Long An 573, Dong Nai 347 and Khanh Hoa 269.
Hanoi capital registered 115 new cases, the highest daily figure the city has recorded since the resurgence of the virus three and a half months ago.
The city has also decided to extend its social distancing measures for another two weeks until August 24.
Elsewhere, dozens of new cases were also in other southern and central provinces such as Can Tho 94, Dong Thap 88, Binh Thuan 66, Da Nang 61, Ben Tre 52, Nghe An 21, Dak Lak 17, and Phu Yen 16.
Overall, Vietnam has recorded 8,324 new cases during the past 24 hours, with HCM City registering 4,060 cases, Binh Duong 1,169, Long An 859, and Dong Nai 554.  
Data from the Ministry of Health (MoH) show as of 06.00 pm on August 6 Vietnam has confirmed 189,473 new locally transmitted cases following the resurgence of the virus in late April and 193,381 cases since the start of the first outbreak in January 2020.
As many as 62,332 patients have recovered from the diseases, including 4,292 cases announced on August 6.
The MoH reported that 296 more patients in 17 cities and provinces have died of COVID-19 and underlying illnesses, with Ho Chi Minh City alone recording 219 fatalities.