COVID-19: Vietnam records 112 new cases over six hours, two deaths
Friday, 13:17, 25/06/2021
VOV.VN - The fresh coronavirus outbreak remains complicated in Vietnam as 112 people have tested positive for the SARS-CoV-2 virus in 10 localities during the past six hours, while another two COVID-19 patients have died of the disease.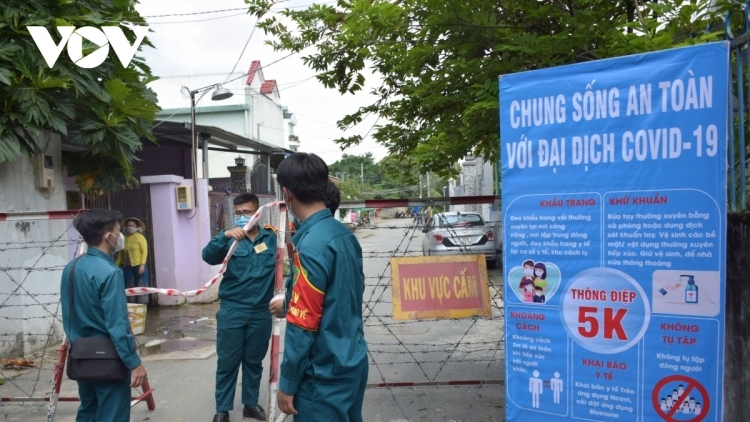 Of the 112 new cases announced by the Ministry of Health (MoH) at 12.00am on June 25, 109 cases were locally acquired and detected in Ho Chi Minh City (50), Long An (21), Bac Giang (18), Binh Duong (12), Hung Yen (3), Phu Yen (2), Bac Ninh (2) and Quang Ninh (1).
Most of the local infections were documented in quarantine and lockdown areas, the MoH said in its COVID-19 update.
Eyes are all on the complicated developments of the outbreaks in Ho Chi Minh City, its neighbour Binh Duong and Long An as many areas have been put in lockdown and sources of infection of several cases remain unknown.
Elsewhere the northern port city of Hai Phong has imposed social distancing on Vinh Bao district after at least four locals tested positive on June 25. The new cases have been confirmed by local authorities but are yet to be labelled by the MoH.
Its neighbour, Quang Ninh province, has also moved to conduct trace tracing following the resurgence of the virus in the locality.
Both Hai Phong and Quang Ninh had previously recorded no new cases for several weeks.
The same day, the MoH also announced three imported cases in Kien Giang, Quang Ninh and An Giang.
Meanwhile, two more COVID-19 related deaths have been confirmed by the MoH on June 25. Both patients, one in HCM City and the other in Kien Giang, suffered from underlying illnesses such as pneumonia, diabetes, multi-organ failure, and hypertension.
The fourth wave of the COVID-19 pandemic which started in late April has attacked 42 cities and provinces across the country, with more than 11,124 cases confirmed.
Overall, Vietnam has logged a total of 14,435 cases, both locally transmitted and imported infections, since the SARS – CoV - 2 virus emerged in January 2020.
Seventy-four COVID-19 deaths have been reported, including 39 cases during the latest outbreak.
As many as 5,759 COVID-19 patients have been discharged from hospital after making a full recovery from the disease.