Central Highlands hit by string of minor earthquakes
Monday, 18:04, 19/04/2021
VOV.VN - Five consecutive small earthquakes measuring between 2.6 and 2.9 on the Richter scale have rocked the central highlands province of Kon Tum in less than a week, according to the data collected by the Earthquake and Tsunami Warning Centre under the Institute of Geophysics.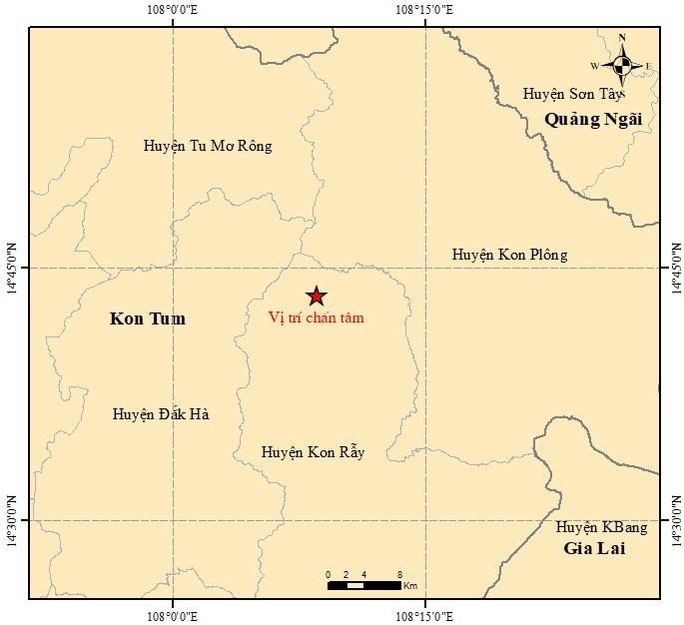 This comes following the latest 2.9 magnitude-quake occurring in Kon Ray district in the Central Highlands of Kon Tum at 9:12 p.m. on April 18, with the epicentre's depth reaching approximately 18.1km.
The Earthquake and Tsunami Warning Centre have stated that two consecutive small-intensity earthquakes measuring 2.6 and 2.8 on the Richter scale also hit the districts of Kon Plong and Dak Ha in the region on April 15, with the epicentre's depth reaching 10km and 9.6km, respectively.  
The succession of minor earthquakes began on April 13 and April 14 when two small quakes, also with a magnitude of 2.6 and 2.8, hit the Dak Ha region in Kon Tum province, with the epicentre's depth recorded at 12km and 9.8km, respectively.
Furthermore, the centre also revealed that these quakes can be classified as small jolts due to their low risk of causing property damage and loss of human life, adding that these earthquakes are still being strict monitored.
According to experts, the Central Highlands makes up a region that has recorded relatively few earthquakes in comparison to other localities in the northwestern region.
Experts believe that the recent impact of the consecutive quakes in the region can be attributed to fault lines emerging along the rivers which pass through the area.