Vietnam's proactive and effective participation in international processes
Monday, 03:21, 18/09/2023
VOV.VN - Prime Minister Pham Minh Chinh and his delegation left Hanoi on September 17 afternoon for the US to attend the high-level week of the 78th session of the United Nations General Assembly, conduct a host of bilateral activities in the US, and pay an official visit to Brazil from September 17-26 at the invitation of President Lula da Silva.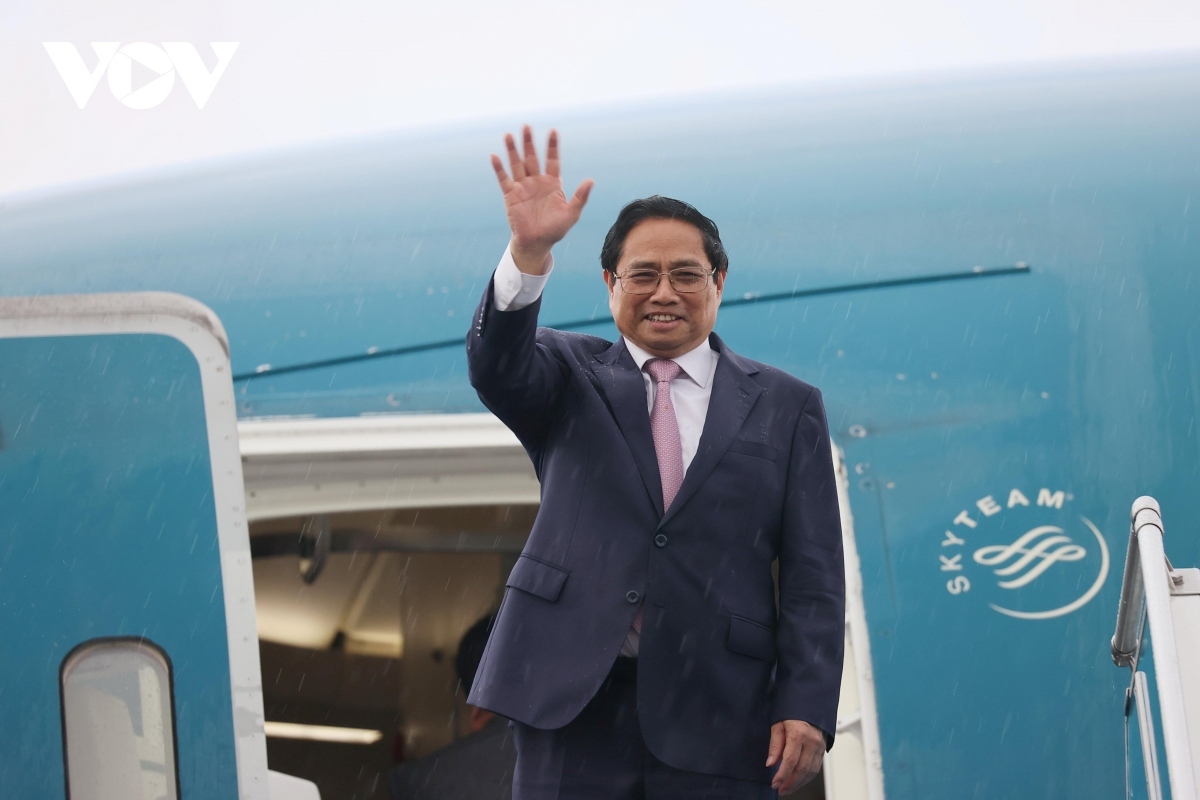 PM Chinh is accompanied by Minister of Public Security General To Lam, Minister of Foreign Affairs Bui Thanh Son, Minister of Planning and Investment Nguyen Chi Dung, Minister of Industry and Trade Nguyen Hong Dien, Minister of Finance Ho Duc Phoc, Minister of Culture, Sports and Tourism Nguyen Van Hung, Minister of Information and Communications Nguyen Manh Hung, Minister of Health Dao Hong Lan, Minister of Natural Resources and Environment Dang Quoc Khanh, Vice Chairman of the Government Office Nguyen Xuan Thanh, Vietnamese Ambassador to the US Nguyen Quoc Dung, Permanent Representative of Vietnam to the UN Dang Hoang Giang, and Vietnamese Consul General in San Francisco Hoang Anh Tuan.

The General Debate of the 78th session of the United Nations General Assembly will take place under the theme of "Rebuilding trust and reigniting global solidarity: Accelerating action on the 2030 Agenda and its Sustainable Development Goals towards peace, prosperity, progress and sustainability for all."

Joining the General Debate, Vietnam continues to pursue its external policy of independence, self-reliance, peace, cooperation, and development, diversification and multilateralisation of relations, and further deepening these ties.

As part of his trip to the US from September 17-23, Chinh will conduct a wide range of bilateral activities to deepen the bilateral Comprehensive Strategic Partnership, materialize outcomes of the recent visit to Vietnam by President Joe Biden, and carry out agreements and commitments made by the high-ranking leaders of the two countries in the spirit of the joint statement on elevating the Vietnam-US relations to a Comprehensive Strategic Partnership for peace, cooperation and sustainable development.
As an active and responsible member of the international community, and with positions in numerous major multilateral mechanisms, Vietnam has made effective and substantial contributions to multiple fields at the multilateral forums, especially the UN.

Vietnam is also holding important responsibilities at many major multilateral mechanisms of the UN such as the Human Rights Council, UNESCO Executive Council, International Law Commission, and has announced its bid to continue running for election to a number of UN agencies and positions. The nation also has candidates for the position of Director of Western Pacific Regional Office of the World Health Organization (WHO).
Regarding Vietnam - US relations, after 28 years of since their establishment of diplomatic ties and 10 years of the Comprehensive Partnership, Vietnam - US relations have made great strides and developed extensively, substantively, and comprehensively in all important fields and at all three levels bilaterally, regionally and internationally, thus actively contributing to security, peace, cooperation and development in the region and the world at large.
For Vietnam, the US is one of its strategically important partners. The two sides have become comprehensive partners in politics-diplomacy, economics, education, science-technology, and defence-security.
On the occasion of the recent State visit to Vietnam by US President Joe Biden, at the invitation of Party General Secretary Nguyen Phu Trong,  the two countries decided to upgrade their relationship to a comprehensive strategic partnership for peace, security and sustainable development. This is viewed as an important historic milestone in the relationship between the two nations.
PM Pham Minh Chinh's business trip to the US this time takes place immediately after President Joe Biden's state visit to Vietnam, and is of great significance for concretizing and implementing agreements and commitments reached between both nations' senior leaders.
During this business trip, the Vietnamese Government leader will make an official visit to Brazil from September 17 to September 26 at the invitation of Brazilian President Lula da Silva.
The Vietnam - Brazil Comprehensive Partnership has continued to see positive development in recent times. The South American nation is Vietnam's largest trade partner in Latin America with last year's trade turnover reaching US$6.78 billion, representing an increase of 6.6% on-year.
Both nations have paid special attention to promoting fields of cooperation such as agriculture, science - technology, culture, sports, and national defence, while maintaining coordination and mutual support at multilateral forums, especially at the UN.
Brazilian President Lula da Silva actively supports Vietnam-Brazil relations while PM Pham Minh Chinh met President Lula da Silva during the expanded G7 Summit held in Hiroshima, Japan in May, 2023.
This business trip by PM Pham Minh Chinh conveys the strong messages of the Party, State and Government of Vietnam to the US, Brazil and international friends about a Vietnam of peace, cooperation and integration as the nation is participating more actively, proactively and effectively in international processes, and making important contributions to the country's relations with the UN, the US and Brazil.