Vietnam enjoys rising stature, prestige in global arena
Wednesday, 19:21, 29/12/2021
With its foreign policy of independence, self-reliance, peace, friendship, cooperation and development as well as diversification and multilateralisation of external relations, Vietnam has affirmed its rising role and position in the region and the world.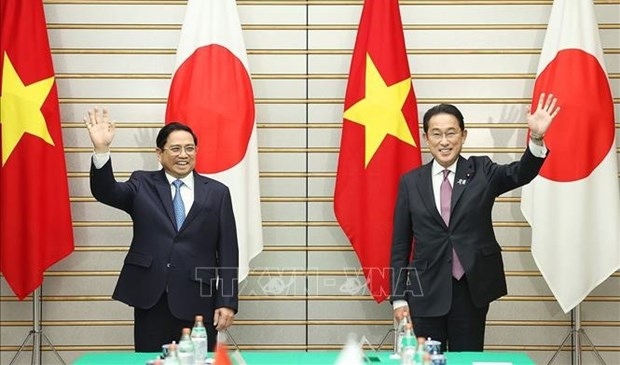 This comment, given by President of the Foreign Relations Commission of the Chamber of Deputies of Mexico Alfredo Femat Bañuelos to the Vietnam News Agency, is among many opinions praising Vietnam's active and positive contributions to the settlement of regional and global issues.
In 2021, Vietnam continued to leave its deep imprints as a trustworthy partner and an active, positive and responsible member of the international community.

President Nguyen Xuan Phuc directly participated in and gave practical proposals on many important issues of the world at the 76th session of the United Nations General Assembly in September, while Prime Minister Pham Minh Chinh attended the 26th United Nations Climate Change Conference of the Parties (COP26) in the UK and made Vietnam's commitments to achieving net zero emissions by 2050 and engaging in the common international efforts in ending deforestation and reducing methane emissions as well as limiting the use of fossil fuels.

Valeria Vershinina from the ASEAN Centre at the Moscow State Institute of International Relations (MGIMO) said that Vietnam is an experienced and responsible member of the international community who is capable of proposing and realising different initiatives to deal with global challenges and threats, as well as giving solutions with consideration of interests of all parties.
Vietnam's imprints in the international arena have been further affirmed during its second tenure as a non-permanent member of the UN Security Council for the 2020-2021 term. In this post, the country has promoted its role and actively made contributions to common works of the council in the spirit of independence, self-reliance, activeness, responsibility and balance.

UN Secretary-General Antonio Guterres affirmed that is an important factor to peace and stability in the region. Ambassador Nathalie Estival-Broadhurst, Deputy Permanent Representative of France to the UN, said that Vietnam is a strong partner in the UNSC and the country performed its duties very well. Meanwhile, Ambassador Philippe Kridelka, Permanent Representative of Belgium to the UN, affirmed that Vietnam has a strong voice and gains trust from the world.

This year, senior leaders of Vietnam have made many trips abroad, speading the message that Vietnam is a friend to the whole world.

Takashi Hosoda, an expert on Vietnam and Asia-Pacific from Charles University in the Czech Republic said that Vietnam has successfully maintained strategic balance in international relations, especially in expanding its partnership with not only regional partners such as ASEAN members, India, Japan and Australia but also world powers, members of the European Union (EU) and many other countries.
Pierre Gréga, President of the Belgium-Vietnam Friendship Association, attributed Vietnam's success to its multilateral and open foreign policy. Meanwhile, President of the Germany – Vietnam Association and former German Ambassador to Vietnam for the 2007-2011 tenure Rolf Schulze stressed that Vietnam – with its commitment to multilateralism and international cooperation based on law – is a respected member of the international community.

All the opinions recognised the role and contributions of Vietnam in regional and global issues once again showed that the stature and prestige of Vietnam are rising.