Italy wishes to promote relations with Vietnam
Thursday, 19:14, 14/10/2021
Italian Deputy Minister for Economic Development Gilberto Pichetto Fratin affirmed that Italy hopes to further promote ties with Vietnam, one of its most important markets in the Asia-Pacific region.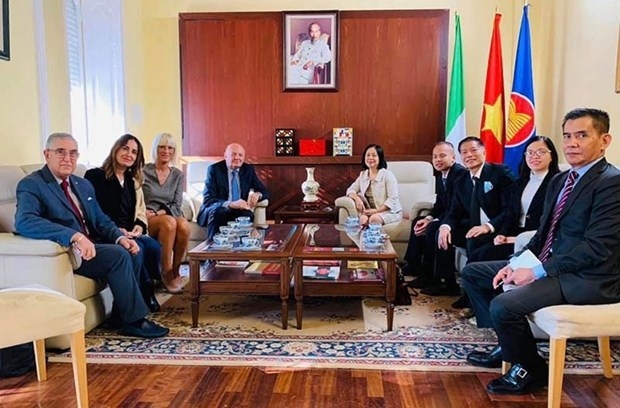 Visiting the Vietnamese Embassy in Rome on October 13, Fratin showed delight at the growing strategic partnership between Vietnam and Italy over the years. 

He highlighted Italy's priorities in economic development in the time to come, underlining the need for joint efforts in adapting to climate change, considering this an important international cooperation area.

The Deputy Minister affirmed his support to the EU-Vietnam Investment Protection Agreement (EVIPA) and said he will hasten the Italian parliament to ratify the deal for interests of both countries. He expressed his hope that tourism activities between the two sides will be resumed soon. He agreed on coordination in organising the eighth meeting of the Vietnam-Italy Joint Committee on economic cooperation.

He also stressed the increasing interest of Italian firms in the Vietnamese market.

For her part, Vietnamese Ambassador to Italy Nguyen Thi Bich Hue thanked the Italian Government for providing COVID-19 vaccines for Vietnam, while sharing her positive assessment of bilateral cooperation, especially in economy thanks to free trade agreements in which both Vietnam and Italy are members, including the EU-Vietnam Free Trade Agreement (EVFTA) and the Comprehensive and Progressive Agreement for Trans-Pacific Partnership (CPTPP).

She said she hopes that the Italian Parliament will soon ratify the EVIPA, thus promoting the bilateral economic ties in the future. She spoke highly of commitments given by Italy as a member of G7 and G20 in global issues such as health care and climate change.

She also highlighted Vietnam's interest in the economic recovery and transformation, considering it a chance for both sides to improve the quality of their relationship.