Geneva, Hanoi to strengthen ties after Vietnamese President' visit to Switzerland
Wednesday, 19:39, 01/12/2021
The meeting between Vietnamese President Nguyen Xuan Phuc and President of the Geneva State Council Serge Dal Busco on November 28 has created a link between leaders of the Swiss state and Vietnam, Vice President of the Council of the State of Geneva Mauro Poggia has said.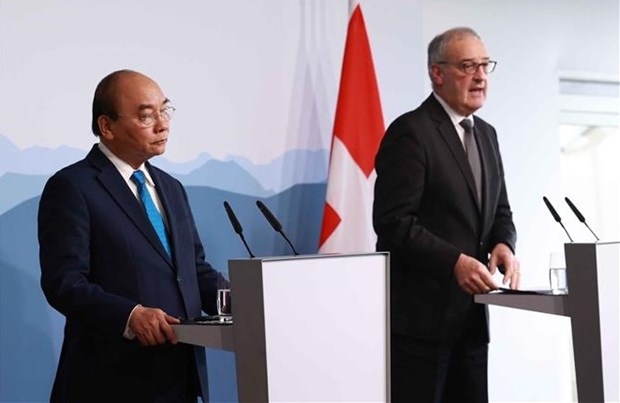 In the future, delegates from the two countries will continue to have discussions to promote development in many fields of mutual interest between Vietnam and Switzerland, he said in an interview with the Vietnam News Agency's reporter in Geneva.

Regarding COVID-19 prevention and control, Poggia spoke highly of Vietnam's ability to produce ventilators, which does not only meet the treatment demand but also be used in the resuscitation emergency departments, providing long-term value and effectiveness.

He also said that Geneva has advantages in the fields of medicine, healthcare, pharmaceutical research and development, and production of drugs to treat diseases including COVID-19.

Given the complicated and unpredictable developments along with the appearance of new contagious variants of the SARS-CoV-2 virus, cooperation in the fight against COVID-19 is essential, Poggia said.

He called for the speedy conclusion of negotiations on a free trade agreement between the European Free Trade Association (EFTA), which comprises Switzerland, Norway, Iceland and Liechtenstein, and Vietnam.
According to the official, the visit of Vietnamese President Nguyen Xuan Phuc has opened up potential and opportunities to raise the level of bilateral relations between Vietnam and Switzerland as well as Geneva after half a century since they established diplomatic ties.
Vietnam is a dynamic partner with economic development prospects and a promising market for Switzerland, he said. Economic and trade relations between Vietnam and Switzerland are witnessing strong and effective cooperation in many fields, Poggia said, adding that there is still much room for development.

Trade turnover between Switzerland and Vietnam reached 3.3 billion CHF in 2020 (3.59 billion USD). The two sides need to make greater efforts to increase meetings and exchange information, and organise cooperation activities to fully tap their potential and enrich bilateral relations, he said.
While there are big differences between the two cities in terms of size and population, Geneva and Hanoi can still shared a vision on urban planning, Poggia said, adding that Geneva has experience in housing management and possesses works of architectural values. The city also has a strategy to protect the environment, improve the quality of life and health of the people.

Poggia also highly appreciated the activities of Vietnam's Permanent Mission to the United Nations, World Trade Organiations and international organisations in Geneva.
In mid-October, he gave a speech at the opening ceremony of the Vietnam - Switzerland Cultural Day at the headquarters of the Vietnamese delegation in Geneva. This event was part of activities to celebrate the 50th anniversary of the establishment of diplomatic relations between Vietnam and Switzerland, enhancing people-to-people, cultural and economic exchanges between the two countries.