Party and State pay due attention to religious affairs
Sunday, 17:00, 07/11/2021
VOV.VN - The Party and State pay due attention to religious affairs and create conditions for religions to practice legally and contribute to national development, said State President Nguyen Xuan Phuc at a grand ceremony on November 7 to mark the 40th anniversary of the Vietnam Buddhist Sangha.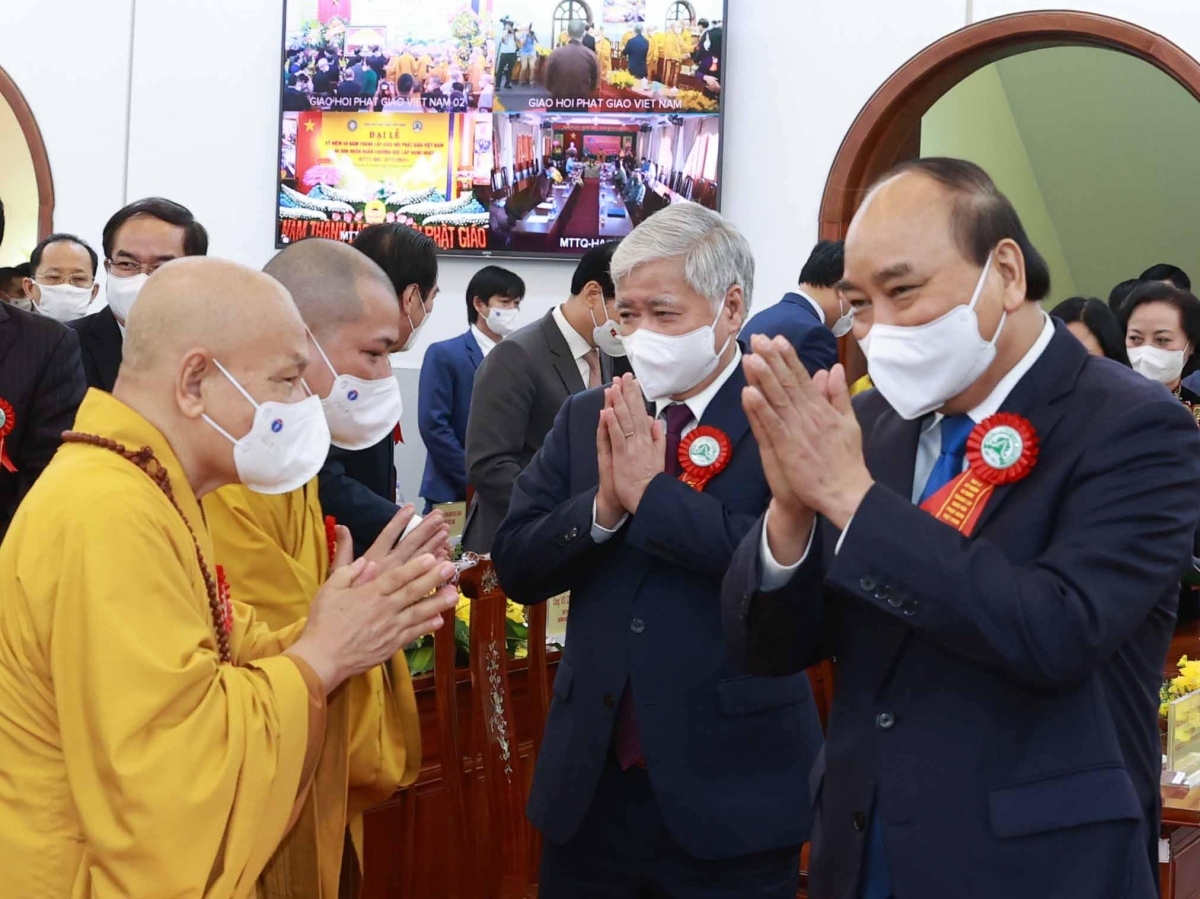 Phuc extended greetings to dignitaries, monks, nuns, and lay followers on the 40th anniversary of the Vietnam Buddhist Sangha (VBS), noting that Buddhism is a reliable member of the Vietnam Fatherland Front that has accompanied along the nation and made many important contributions to the great national unity bloc.
"Buddhism has contributed to enriching and deepening the cultural values, traditional ethics and independent thought of the Vietnamese nation," he said. "Buddhist teachings uphold human values that encourage people to do good, unite, and get along with the community in order to build a peaceful society…."
According to the President, Vietnam's Buddhism is associated with the nation's history. Since the revolution was led by the Communist Party of Vietnam, Buddhism has always upheld the tradition of great national unity and joined the cause of national liberation, construction and defence.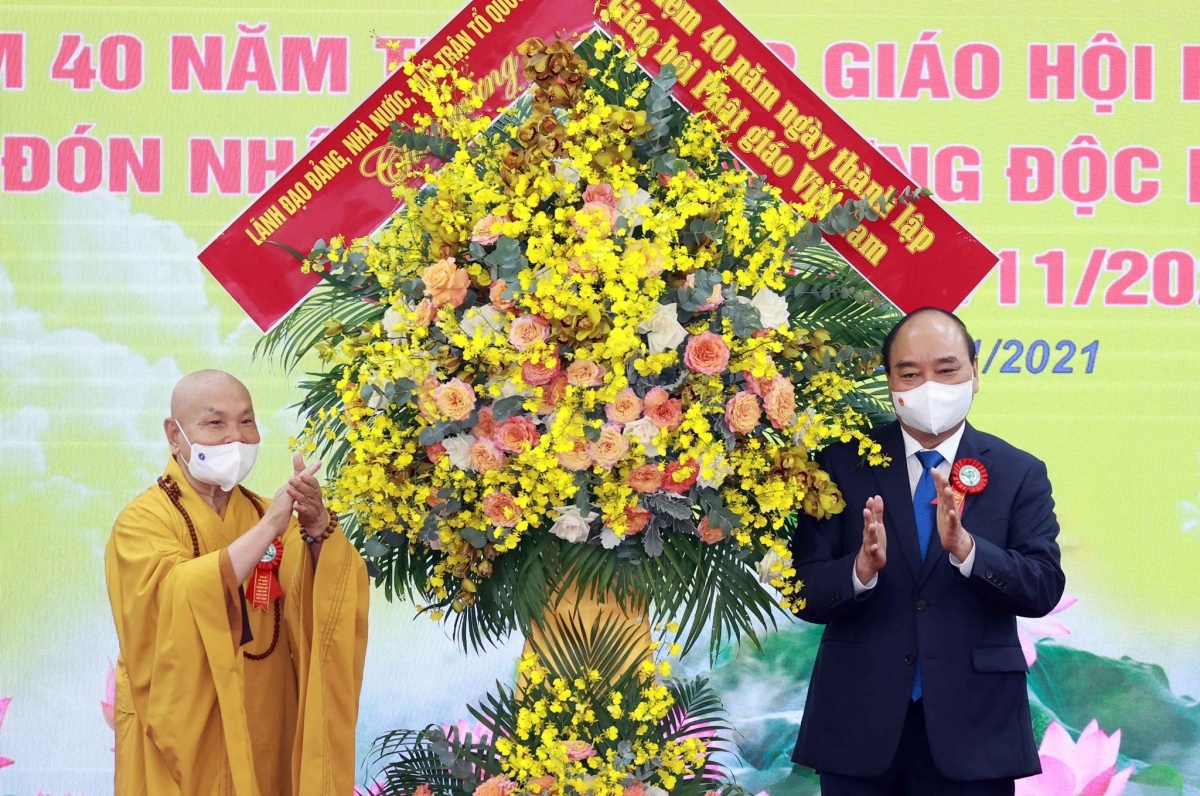 Phuc praised the VBS for its great efforts in uniting monks, nuns and Buddhists during the past 40 years to overcome difficulties and challenges under the motto "Dharma - Nation – Socialism" and make worthy contributions to national construction and defense.
It is worthy of note that the VBS has successfully organized the United Nations Day of Vesak three times, helping to elevate Vietnam's position internationally, he said.
He also singled out the VBS for its fundraising campaigns to support needy people in society, especially during the ongoing fight against COVID-19.
President Phuc affirmed the Party and State always pay attention to religion and religious affairs by promulgating many policies and laws related to religion.
"Religion and belief are the spiritual needs of a segment of society, which exist alongside the nation in the process of building socialism in Vietnam. Religious followers are part of the great national unity bloc," he stressed.
He reiterated the Party and State's consistent policy of respecting and ensuring people's right to freedom of belief and religion and people's right to freedom of non-belief and non-religion.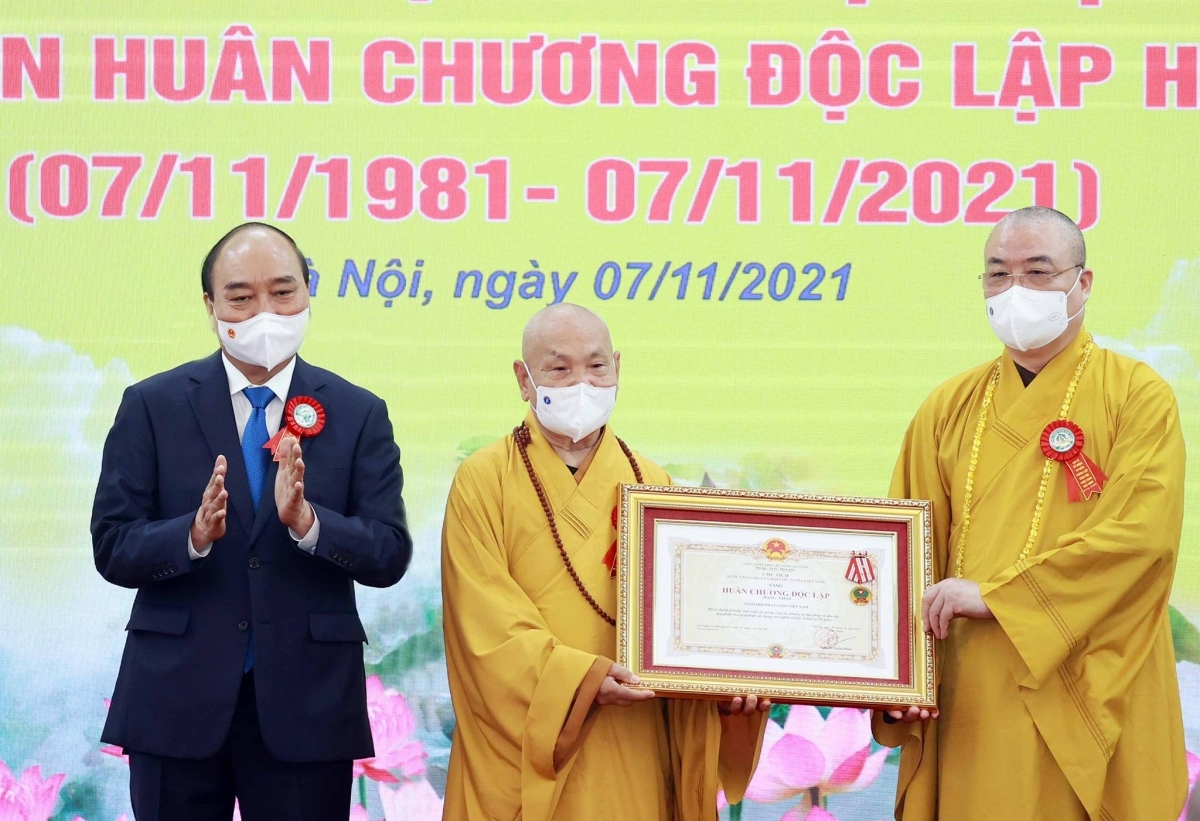 The Party and State encourage religious sects to practice legally, preserve and promote traditional positive values, pay attention to socio-economic development, and create conditions for religious dignitaries and followers to well perform their true spiritual practice and fulfill citizens' duty to the Fatherland, said the President.
He expressed his belief that the VBS will continue to play its role in building the great national unity bloc, connecting Buddhists in Vietnam and abroad, responding national emulation movements and building and developing an advanced Vietnamese culture imbued with national identity.
At the ceremony, State President Nguyen Xuan Phuc awarded the Independence Order, first class, to the Vietnam Buddhist Sangha in recognition of its contributions to national unity and development.