VFF leader congratulates Vietnam Buddhist Sangha on 40th anniversary
Friday, 15:46, 05/11/2021
VOV.VN - Vietnam (VFF) Fatherland Front Central Committee President Do Van Chien on November 5 visited and congratulated the Vietnam Buddhist Sangha (VBS) on its 40th founding anniversary.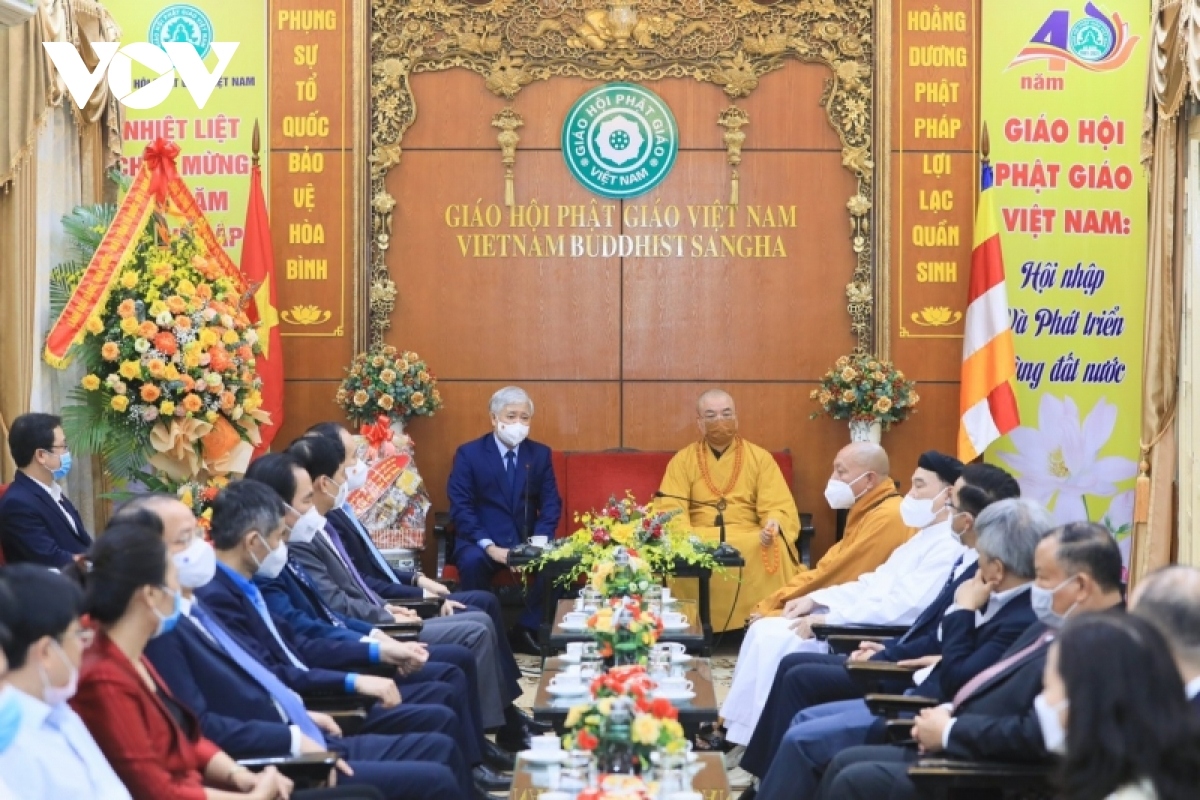 Chien noted that during the past 40 years under the motto Dharma – Nation – Socialism the VBS, together with its dignitaries, monk, nuns and followers, have made positive contributions to socio-economic development.
He especially praised the Buddhist organization for launching fund-raising campaigns to donate cash and medical supplies to the Government's fight against COVID-19.
The VFF leader expressed hope the VBS will continue to work alongside the State to realize Resolution adopted at the 13th National Party Congress in order to build a prosperous Vietnam.
Venerable Thich Thanh Nhieu, deputy chairman of the VBS's Executive Council, assured Chien that the VBS will direct dignitaries, monks, nuns and followers to strictly follow Buddha's teachings to live a good life, abide by the State's law, promote patriotism, preserve cultural traditions, and uphold the spirit of great national unity.
The Vietnam Buddhist Sangha is the only Buddhist organization recognized by the Vietnamese government. It was founded at a Buddhist Convention held on November 7, 1981 at Quan Su Pagoda in Hanoi where nine Buddhist sects agreed to operate under the umbrella of a sole organization.
Currently, Vietnam has nearly 55,000 Buddhist monks and nuns, more than 18,000 places of Buddhism worship, and more than 50 million Buddhists and people who love Buddhism.
The Vietnam Buddhist Sangha has established 10 Vietnamese Buddhist associations overseas. It has made regular contact to guide Vietnamese monks, nuns and followers in 35 countries and territories around the world.