State president hosts Singapore parliament speaker
Thursday, 19:34, 19/05/2022
VOV.VN - State President Nguyen Xuan Phuc on May 19 received Tan Chuan Jin, speaker of the parliament of Singapore, who is in Hanoi for an official visit to Vietnam.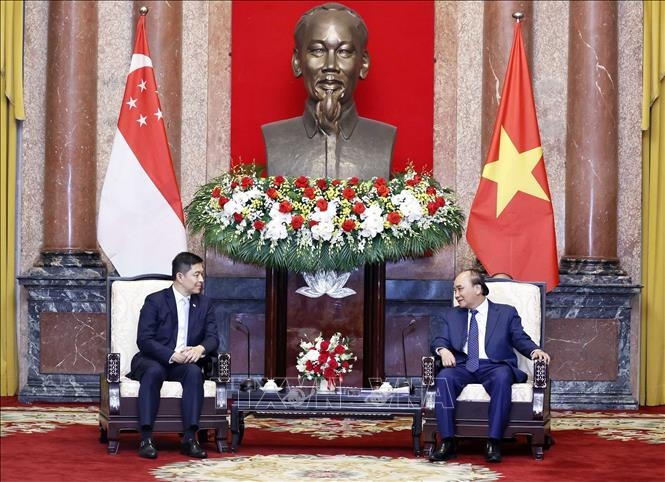 Phuc spoke highly of the good results of the May 18 talks between the two countries' top legislative leaders, which he said contribute to promoting cooperation between the two countries and their legislative bodies.
The President noted with satisfaction the positive development of bilateral trade and investment ties, saying the Vietnam – Singapore Industrial park (VSIP) is an exemplary model for economic cooperation between the two countries.
He expected that Vietnam would receive more cooperation projects from Singapore, and that the two sides would strengthen cooperation in human resource training - the most solid foundation for national socio-economic development.
For his part, Speaker Tan Chuan Jin brifed his host on the two sides' commitments to fostering bilateral relations. He said there will be various activities to be carried out in 2023 to mark 50 years of the Vietnam – Singapore diplomacy, and the Prime Minister of Singapore wishes to visit Vietnam on this occasion.
The Singaporean guest expressed his impression of Vietnam's organization of the 31st SEA Games and said such a sport event would help promote people-to-people exchanges.
President Phuc shared the view with his guest and hoped the two countries would uphold ASEAN's stance on peaceful settlement of disputes in line with international law, including the 1982 UN Convention on the Law of the Sea (UNCLOS).
He proposed that the National Assembly of Vietnam and the Parliament of Singapore maintain this position of ASEAN at the ASEAN Inter-Parliamentary Assembly (AIPA), Inter-Parliamentary Union (IPU) and Asia-Pacific Parliamentary Forum (APPF) and at other multilateral parliamentary forums.