Singapore parliament speaker expects more Vietnam – Singapore exchanges
Thursday, 15:31, 19/05/2022
VOV.VN - Visiting parliament Speaker Tan Chuan-Jin of Singapore on May 19 received Bui Van Cuong, chairman of the Vietnam - ASEAN Friendship Parliamentary Group.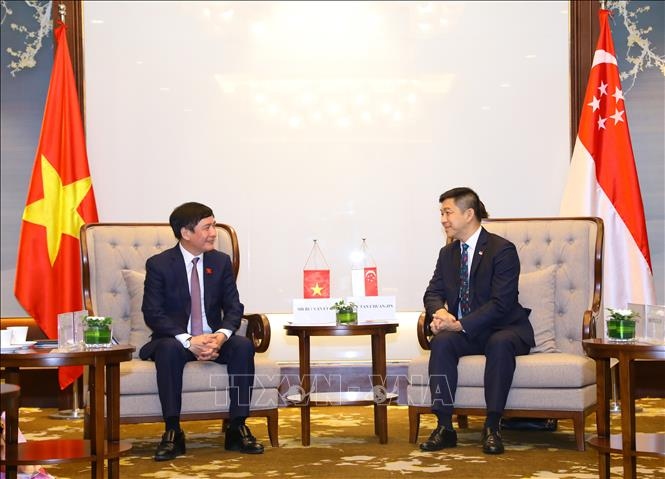 Tan inform Cuong who is also secretary general of the Vietnam National Assembly and chairman of the NA Office, on the results of his talks with Vietnamese National Assembly Chairman Vuong Dinh Hue and the signing of a cooperation document between the two legislative bodies.
He suggested that the two sides further promote friendly exchanges between the two parliamentarians, contributing to tightening the relationship between the two legislatures in particular as well as developing the strategic partnership between the two countries.
For his part, Cuong stressed that the official visit to Vietnam by Tan is of great importance to the Vietnam - Singapore strategic partnership in the context that the two countries will celebrate 50 years of bilateral diplomacy and 10 years of their strategic partnership in 2023.
He congratulated Singapore on overcoming the COVID-19 pandemic, effectively implementing the vaccination drive and reopening its economy. He expressed his belief that Singapore would record greater achievements in economic recovery and play an important role in maintaining and ensuring peace, stability and prosperity in the region and the rest of the world.
Cuong expected that the Singaporean parliament speaker would encourage the two legislative bodies to promote the exchange of delegations and closely coordinate and support each other at regional and international parliamentary forums.