Promoting Vietnam – Denmark comprehensive partnership
Friday, 16:12, 22/04/2022
VOV.VN - Vietnamese Ambassador to Denmark Luong Thanh Nghi on April 20 paid a courtesy visit to State Secretary for Trade and Global Sustainability Steen Hommel and Director Thomas Lehmann of the Asia Department under the Danish Ministry of Foreign Affairs.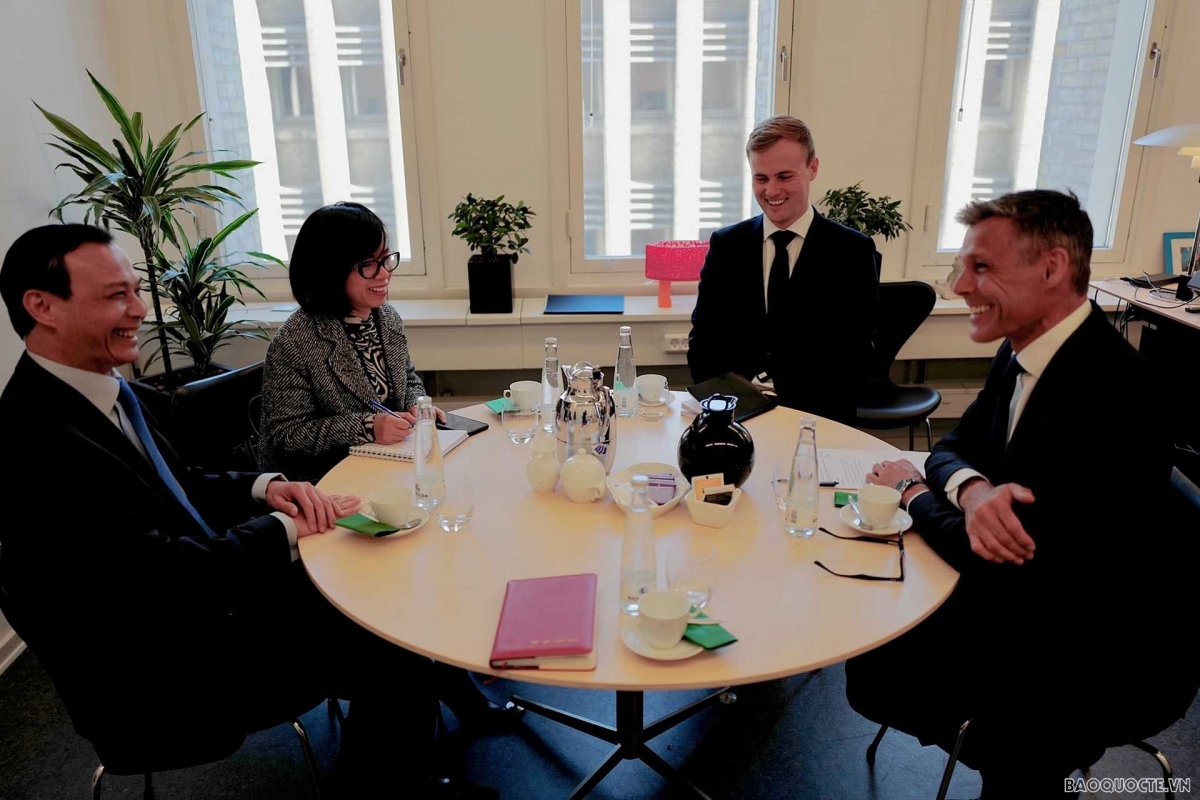 The two sides are pleased to see that over the past half century, the Vietnam-Denmark relations have developed substantially for mutual benefits. They have regularly exchanged delegations at all levels, and pledged to support each other at international and regional forums such as the United Nations, the World Trade Organization (WTO), Asia-Europe Meeting (ASEM), and ASEAN-EU.
They have also actively implemented key points in the Vietnam-Denmark Joint Action Plan for 2020-2021 and 2021-2022 in the lead up to the 50th anniversary of the establishment of diplomatic relations.
The diplomats noted that progress has been made in trade and investment cooperation, becoming a bright spot in bilateral relations. Despite the impact of the COVID-19 pandemic, the two-way trade turnover between the two countries reached US$842.37 million last year, a year on year rise of 18%.
With regard to investment, 145 Denmark poured US$466.17 million into Vietnamese projects last year, ranking 32nd among countries and territories investing in Vietnam.
Notably, Lego group decided to invest more than US$1 billion in a project in Binh Duong province in the first quarter of 2022, making Denmark the third largest investor in Vietnam in the reviewed period.
Currently, Danish businesses are keen to eye areas of their strengths such as renewable energy, agriculture, animal husbandry, and food processing. The two sides are committed to creating favourable conditions for their businesses to explore the market and seek investment opportunities.
Ambassador Luong Thanh Nghi highly appreciated the results of bilateral cooperation in recent times, pointing to the fact that the two countries hold great potential for more effective cooperation in the areas of their strengths as the two economies are complementary.
The two sides discussed a number of measures to further strengthen the comprehensive partnership in the coming time. They agreed to promote high-level delegation exchanges and effective implementation of the Vietnam-Denmark Joint Action Plan for 2021-2022.
They consented to continue supporting each other at international and regional multilateral forums and organizations, as well as to share views on international issues of mutual interest, for the sake of peace, cooperation and interests of the two countries.
Denmark was one of the first Western countries that established diplomatic relations with Vietnam in 1971. The two sides established the strategic partnership in the fields of climate change, energy, and environment and green growth in 2011, and upgraded their relations to a level of comprehensive partnership two years later.