LEGO pours more than US$1 billion into toy plant in Vietnam
Thursday, 06:21, 09/12/2021
VOV.VN - Denmark's LEGO Group that specializes in toy production globally for kids has decided to invest more than US$1 billion in a project to build a plant in Binh Duong province, southern Vietnam.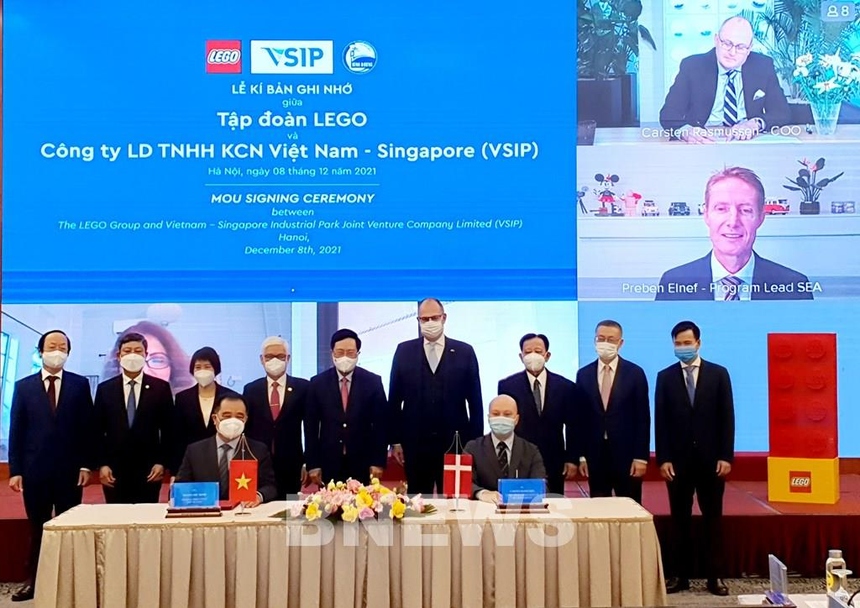 The Danish company on December 8 signed a memorandum of understanding with the Vietnam–Singapore Industrial Park Joint Stock Company (VSIP) to undertake the project.
The project will cost more than US$1 billion including investment in solar energy production on the 44ha land area in Binh Duong. This is LEGO's first ever carbon-neutral unit aiming to create 4,000 job opportunities over the next 15 years.
LEGO said local skilled workers will be trained to operate high-tech manufacturing equipment used in every LEGO plant worldwide, to ensure each product meets global standards.
The company is scheduled to break ground in the second half of 2022 and the plant is expected to be put into operation in 2024. When completed, it will be LEGO's sixth plant in the world and second in Asia, aiming to foster long-term growth in the region and provide fun experiences for children in coming years.
LEGO's decision to build a factory in Vietnam is to expand its global supply chain network as factories are located in areas close to key markets. It helps the company to flexibly and quickly respond to changes in consumer demand in each region, shorten the supply chain and reduce the impact on the environment when transporting long distances.
The new factory is expected to install rooftop solar panels, and VSIP will represent the construction of a solar project next door to meet 100% of the plant's annual requirements for renewable energy.
LEGO's decision to build its plant in Vietnam was attributed to the Vietnamese Government's policy of expanding renewable energy production infrastructure and a collaborative approach to working with foreign companies who are seeking to make high quality investments, said Chief Operations Officer of LEGO Group Carsten Rasmussen.
LEGO Group is one of the largest toy manufacturers in the world and it is rapidly expanding in 40 countries. It has planned to open 174 new stores around the world this year, thereby bringing its total number of stores to 851.