Denmark, Vietnam launch Energy Partnership Programme
Friday, 11:37, 29/10/2021
VOV.VN - Deputy Minister of Industry and Trade Dang Hoang An and Danish Ambassador to Vietnam Kim Højlund Christensen signed a new agreement on October 28 to kick start the Danish Energy Partnership Programme between Denmark and Vietnam 2021-2025 (DEPP III).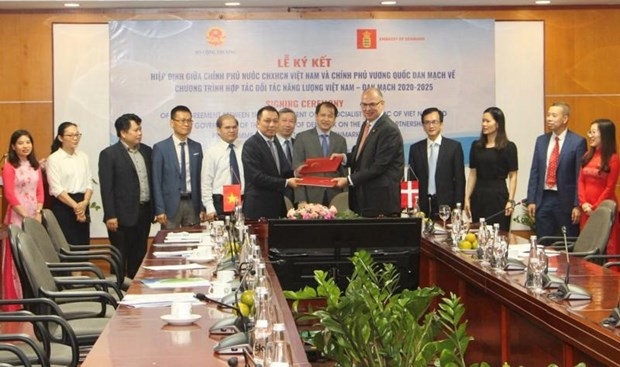 This marks the third phase of a long-term energy co-operation programme between the two Governments which was originally launched back in 2013. The scheme will be jointly carried out by the Vietnamese Ministry of Industry and Trade (MoIT) and the Danish Energy Agency, with a non-refundable aid of DDK60.3 million, equivalent of US$10 million, in the form of technical assistance from the Danish side.

During the signing ceremony, Deputy Minister An said that joint energy co-operation has brought about a range of positive results and has duly benefited both countries.

The implementation of the programme's third phase will also offer plenty of chances for the nation to learn from Danish experience in strategic energy development policies, thereby playing an important role in the sustainable transition of the Vietnamese energy sector.

In response, the Danish Ambassador affirmed that the European country is a long-standing and trustworthy partner of the Vietnamese side and has contributing to helping the nation to switch to green energy and a low-carbon economy.

The DEPP III will therefore inherit the solid foundation set up through the two Governments' partnership and continue to strengthen and develop achievements recorded so far, he added.
With more than 50 years of experience in the field, Denmark is willing to share its best practices, knowledge, and experience with the nation in order to help it fully meet its enormous potential in energy transition and improve Vietnamese commitment to climate change adaptation, the Danish diplomat said.

Within the framework of the programme, Vietnamese and Danish partners will continue to collaborate in energy planning, integration of renewable energy into the power grid, and the economical and effective use of energy in the industrial sector.

Offshore wind energy development will also continue to represent a key area of the programme.
It will also help the MoIT's Energy Efficiency and Sustainable Development Department build a mechanism conducive for the application of economical and effective energy solutions in energy-intensive Vietnamese industries.

The DEPP is part of the Danish commitments to fulfill the Paris Agreement by assisting a number of emerging economies, including Vietnam, in their low-carbon transition.