President Vo Van Thuong's APEC trip elevates Vietnam's position globally
Sunday, 16:39, 19/11/2023
VOV.VN - A high-ranking Vietnamese delegation led by State President Vo Van Thuong returned to Hanoi on November 19 morning (local time), concluding their business trip to the US where they attended the 30th Asia-Pacific Economic Cooperation (APEC) Leaders Meeting at the invitation of US President Joe Biden.
A new mindset is needed
At the summit and related meetings, the leaders agreed that after 30 years of its operation, APEC has been a key driving force for global economic growth. The grouping will continue to realize the Putrajaya Vision 2040 and the Aotearoa Plan of Action to an open, dynamic, resilient, and peaceful Asia-Pacific community by 2040, for the prosperity of all our people and future generations.
The grouping will continue to promote a free, open, transparent and inclusive trade and investment environment; build a non-discriminatory digital ecosystem for businesses and consumers; and accelerate the implementation of the the APEC Internet and Digital Economy Roadmap (AIDER), which fosters an inclusive digital economy for all.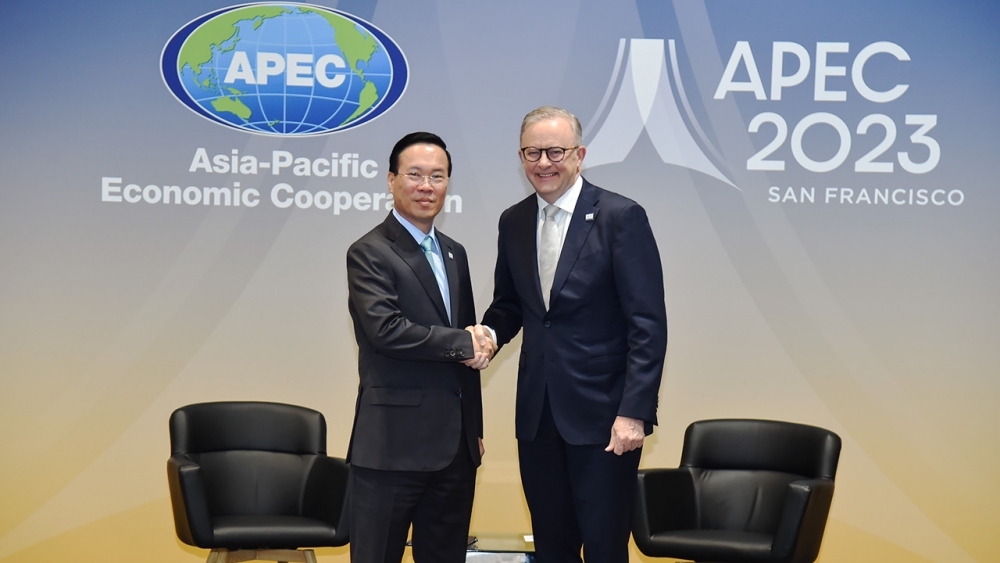 The leaders vowed to meet the commitment to rationalize and phase out inefficient fossil fuel subsidies, and step up clean energy transition to realize the global goal of cutting greenhouse gas emissions to zero.
Within the Indo-Pacific Economic Framework for Prosperity (IPEF), the leaders agreed to establish the IPEF climate fund and the IPEF catalytic capital fund with an initial capital of about US$30 million to support projects on clean economic transformation.
At these meetings, Vietnamese President Vo Van Thuong pointed out major contradictions of the global economy as a consequence of economic growth, globalization, scientific and technological development, including the widening gap between rich and poor, serious environmental destruction, growing trend of protection and separation, and limited resources for sustainable development.
To fundamentally resolve these problems, the President emphasized that a new mindset is needed that is inclusive, harmonious and humane at the national, regional and global levels. Nationally, he said economic development policies are introduced to not only facilitate the business investment for businesses, but also improve job quality, increase workers' income, and contribute to preserving the ecological environment.
Regionally and globally, he said cooperation between countries is not only aimed at cutting greenhouse gas emissions and converting to clean energy, but also needs to create conditions for developing countries to expand their economies and narrow the development gap. And finally, he said at each business the new business philosophy is to link the business' profits with the common interests of society.
"More than ever, APEC needs to reaffirm its commitment to maintaining market openness, promoting international economic links, and supporting an open, inclusive and sustainable world economy. It must ensure that benefits from trade are distributed widely and equitably in society, while trade and investment liberalization will help Asia-Pacific economies improve their competitiveness, and continue to be the top choice of investors," stressed the president.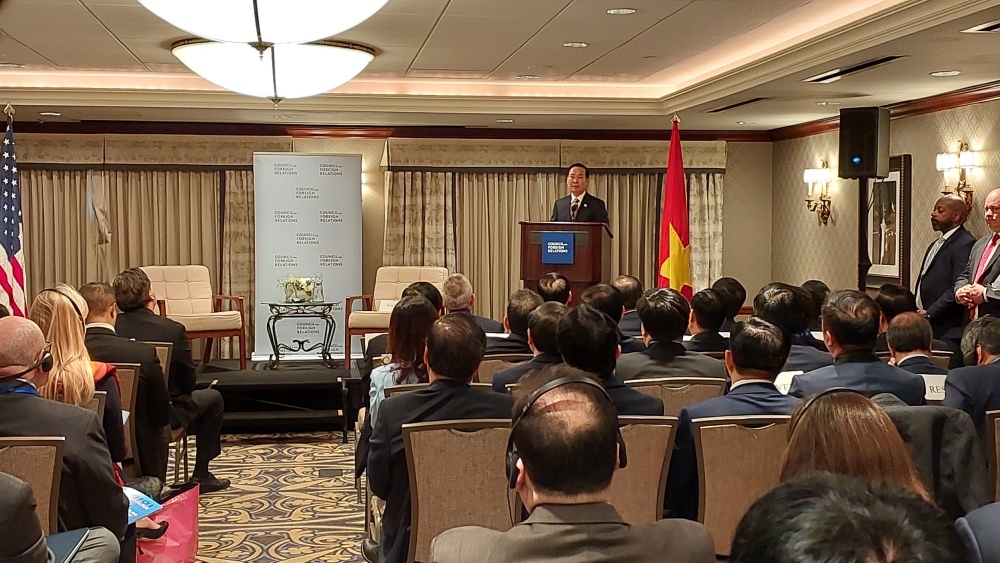 President Vo Van Thuong also made specific proposals for APEC's missions in the new period, that is maintaining trade and investment liberalization and facilitation in the Asia-Pacific region and globally; cooperating to build a resilient region, with each economy staying ready to respond to challenges; creating a cooperation framework to support member economies to take advantage of development opportunities and promote growth drivers.
The APEC leaders highly appreciated President Thuong's initiatives and proposals, including one to promote the mobilization of public-private financial resources to meet sustainable development goals by 2030. They also supported Vietnam's proposal to play host to the APEC Year 2027.
Besides the main activities at APEC, the President had a series of bilateral meetings with global leaders, including Party General Secretary and President of China Xi Jinping; US President Joe Biden, Republic of Korean President Yoon Suk Yeol, Japanese Prime Minister Kishida Fumio, Brunei Sultan Hasanal Bolkiah, Canadian Prime Minister Justin Trudeau, Malaysian Prime Minister Anwar Ibrahim, Peruvian President Dia Boluarte, and Australian Prime Minister Anthony Albanese. These meetings were aimed at fostering bilateral cooperation between Vietnam and other countries and to promote cooperation within APEC.
Promoting Vietnam – US comprehensive strategic partnership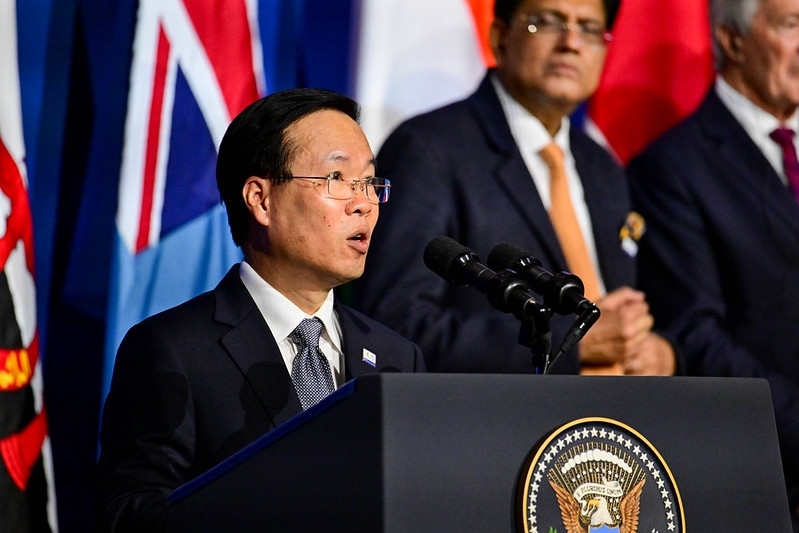 President Vo Van Thuong undertook a range of activities with a number of US partners in an effort to realize the 2023 Joint Leaders' Statement on lifting Vietnam – US relations to the comprehensive strategic partnership following US President Joe Biden's visit to Vietnam in September.
He delivered a speech and answered scholars' questions at the Council on Foreign Relations, an organization which was founded in 1921 and has approximately 5,000 members including many former and incumbent high-ranking politicians with much influence on US foreign policy. He reaffirmed that Vietnam consistently pursues a foreign policy of independence, self-reliance, peace, friendship, cooperation and development, diversification and multilateralization of foreign relations. It aims to integrate into the world comprehensively and deeply, and to become a friend, a trusted partner and an active, responsible member of the international community.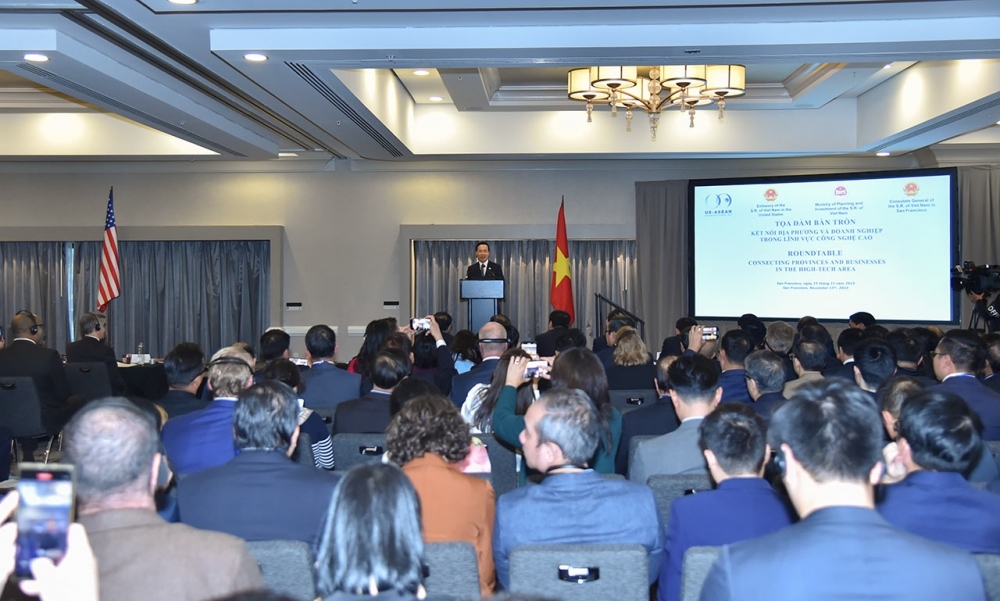 In addition, he said Vietnam introduces the 'four no's' defense policy that is not engaging in military alliances, not aligning with one country to fight another, not allowing foreign countries to set up military bases or use territory to fight other countries, and not using force or threatening to use force in international relations. The country is ready to contribute to the common efforts of the international community in responding to climate change, protecting the environment, participating in United Nations peacekeeping activities and international humanitarian relief,
With regard to Vietnam – US relations, the President affirmed that never before has the relationship between Vietnam and the United States developed well as it does today, from former foes to comprehensive strategic partners. This is truly a model in the history of international relations in terms of healing and building post-war relations.
He recalled US leaders' statement supporting 'a strong, independent, self-reliant and prosperous Vietnam', and said Vietnam also considers the US a strategically important partner in its foreign policy.
"We also believe in the bright prospects of the Vietnam – US Comprehensive Strategic Partnership," stated the President.
Professor Larry Bermang, author of many books about Vietnam, noted that President Thuong's business trip affirms Vietnam's special position in the international arena and the urgency of implementing commitments of the Vietnam – US comprehensive strategic partnership. According to the scholar, Vietnam's role in the Asia-Pacific region has increased significantly in recent times. The APEC summit helped elevate Vietnam's position in solving global problems.
In San Francisco, President Vo Van Thuong also met with the US Special Presidential Envoy for Climate; the Governor of California; the Deputy Mayor of Los Angeles, representatives of the US-APEC Business Alliance, leaders of Apple and Boeing corporations; and called at Stanford University Medical Center. During the meetings, the President emphasized that high-level agreements between the two countries will only yield good results when there is participation and cooperation between localities of the two countries. He proposed promoting local cooperation, while calling on US corporations to invest in Vietnam.
In response to the President's message, a business and locality connection exchange was held, during which the two sides signed more than 10 cooperation documents in the fields of education - training, greenhouse gas emissions reduction, industrial park development, urban development, ecotourism, consumption of agricultural products, human resources training for IC design, infrastructure development, artificial intelligence, and renewable energy development.
John Neuffer, president and CEO of the Semiconductor Industry Association (SIA), highly appreciated Vietnam's vision for high-tech development, especially in the semiconductor industry which US investors are interested in. According to him, US investors appreciate Vietnam's current policymaking capacity and hope to see the country's great vision transformed into concrete steps that can encourage US investment into its market.
During his stay, President Vo Van Thuong met with representatives of the Vietnamese community in the US. He reiterated the Party and State's policy of considering the Vietnamese community abroad an indispensable part of the Vietnamese nation.  
Minister of Foreign Affairs Bui Thanh Son who accompanied President Vo Van Thuong in activities in the US said the President's working trip is a great success, helping to elevate Vietnam's position bilaterally and globally.