Vietnam's economic losses at VND500 trillion due to COVID-19
Sunday, 18:18, 05/12/2021
VOV.VN - The Vietnamese economy could lose more than VND500 trillion in output over the past two years due to the impact of the COVID-19 pandemic, said Nguyen Thanh Phong, deputy head of the Party Central Committee's Economic Commission.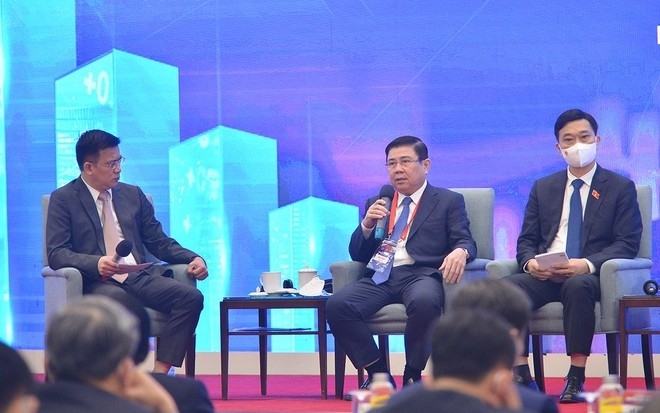 Addressing a national economic forum in Hanoi on December 5, Phong said Vietnam's GDP would expand 7% if the SARS-CoV-2 virus did not attack the country in 2020-2021. However, the resurgence of the virus in late April 2021 hampered national economic recovery efforts and the growth rate for 2021 is projected at around 2.5%.
"Economic losses for 2020 hovered around VND160 trillion and the 2021 figure is estimated at VND346 trillion. If calculated at current prices, two-year economic losses could go up to VND847 trillion, equivalent to US$37 billion," Phong analyzed.
To minimize losses, he suggested Vietnam quickly find measures to restore the momentum of its economic growth.
"For countries with rapid growth, they rely much on foreign markets, along with expanding their production and importing only necessary equipment," he said, referring to economic development models of Japan and China which were driven by exports and investments.
In his opinion, exports and foreign investment are important factors that can help build up business confidence. Back to the 2011-2015 period, Phong said Vietnam was then confronted with macroeconomic instability when inflation and bad debt ratio skyrocketed, but its economic growth remained relatively high in the region thanked to 17.5% growth in foreign trade and 2.54% growth in investment.
Yet he noted that the State investment performs its leading role in the national economy along with foreign and private investments. He also suggested a big economic stimulus package to be developed to fuel domestic consumption, reduce production costs, support housing projects and provide employees with allowances.