Vietnamese lychees with origin tracing stamp hit shelves in France
Monday, 12:14, 14/06/2021
VOV.VN - The first batch of fresh lychees originating from the northern province of Hai Duong have hit the shelves of a supermarket chain in France, thereby marking the first time that the local fruit has been imported to the European country via official channels.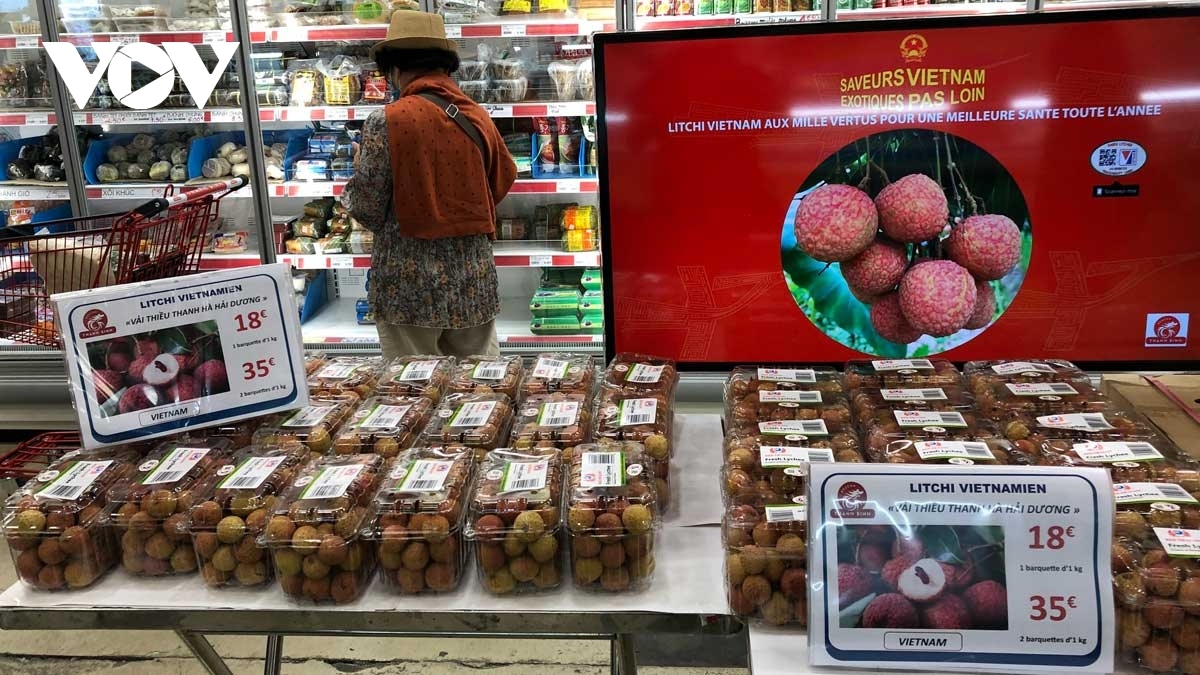 The move comes following the enforcement of the Vietnam-EU Free Trade Agreement (EVFTA) in August 1, 2020.
The shipment of approximately a tonne of lychees arrived at the Paris Charles de Gaulle Airport in France on June 12 and can be purchased at Thanh Binh Jeune, a supermarket chain specialising in selling goods of Asian origin, especially those from Vietnam.
Ngo Minh Duong, chairman of Thanh Binh Jeune Company, said overseas Vietnamese in France are highly appreciative of the quality of fresh lychees which originate from the Vietnamese market. Moving forward it is expected that the company will continue to import roughly five tonnes of lychees from now until the end of the season.
Duong went on to state that the official import of lychees the EVFTA implementation along with the appllication of quality standards and the rule of origin have clearly reflected the company's professionalism and help the products to become more reliable among foreign consumers.
At present, Thanh Ha lychees are sold at the supermarket for €18 per one kilo box, equivalent to more than VND500,000 per kilo.
Vu Anh Son, head of Vietnam's Trade Office in France, said the successful export of a lychee batch labeled with the Vietnamese itrace247 origin tracing stamp clearly demonstrates the Vietnamese Government's determination to support firms amid the complicated nature of the COVID-19 pandemic.
Son noted that in order to penetrate the most demanding market in Europe, the European - American Market Department under the Ministry of Industry and Trade (MoIT) has continuously urged Vietnamese trade offices abroad to seek new outlets specifically for Vietnamese agricultural products.
In order to adapt to France's continuous lockdowns and social distancing measures, Vietnam's Trade Office and the Vietnamese Embassy in France have co-ordinated efforts with local and French agencies to deploy online trade promotion activities to introduce the potential of Vietnamese agricultural products to French businesses.
The Vietnamese trade office has initiated plans to support local firms as they export nearly one tonne of lychees every week, along with over 10 tonnes via air and marine routes, this year.
The office therefore revealed that negotiations are also underway to bring more shipments of lychees and other Vietnamese agricultural products to the Rungis market system, or Tang Frères, the largest Asian supermarket chain in France.
After the conclusion of events aimed at promoting Vietnamese lychees at Asian supermarkets, the Vietnam Trade Office and the Vietnamese Embassy in France will co-ordinate alongside other units to introduce the product within the framework of the Vietnam Food Festival 2021 in Paris.