Vietnamese economy remains resilient amid headwinds: NA Chairman
Tuesday, 12:28, 19/09/2023
VOV.VN - The national economy has shown resilience amid global headwinds, said the National Assembly (NA) Chairman Vuong Dinh Hue at the Vietnam Socio-Economic Forum 2023 held on September 19 in Hanoi.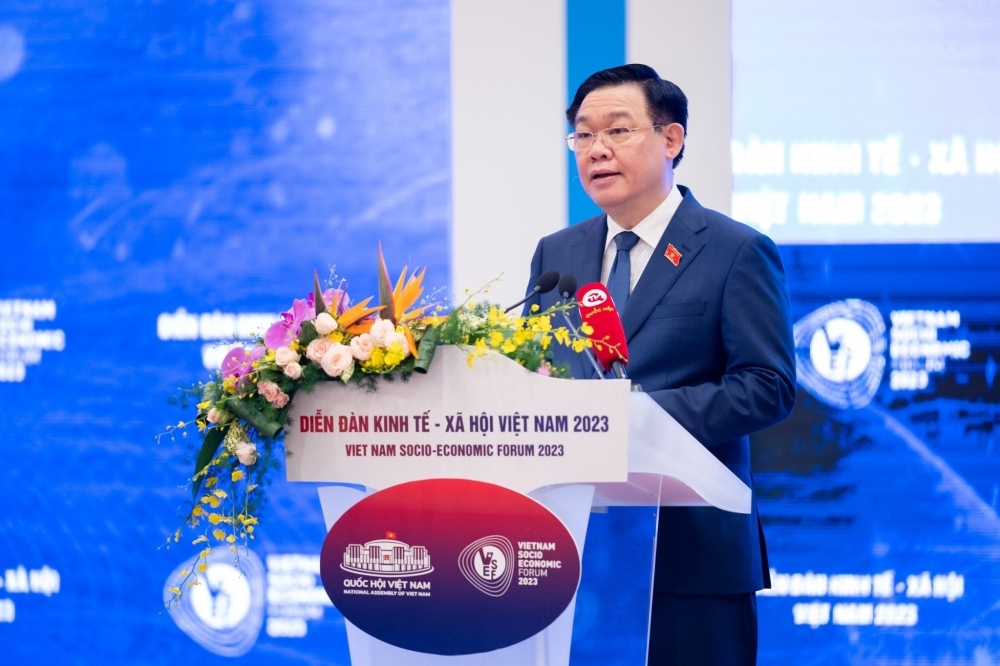 Upon addressing the event with the theme of "Enhancing internal capacity, creating drivers for growth and sustainable development", the top Vietnamese legislator emphazized that the nation has steadfastly overcome challenges to obtain major and comprehensive achievements amid numerous difficulties in the region and the world.
In fact, Vietnam's growth drivers and industrial production from the fourth quarter of last year has slowed, while the country's major export markets have shrunk amid disruptions in several supply chains.
However, the local economy has maintained its growth momentum and become a bright spot "in the "gray picture" of the global economy due to unprecedented policies and solutions being taken.
The macro-economic situation has remained stable, while inflation has been controlled with national credit ratings and the country's position within the international arena being improved.
Major balances are guaranteed with the ratio of public debt, foreign debt, and budget deficit being below the threshold allowed by the NA. Bad debt has been brought under control, while exchange rates have been also quite stable.
In the first eight months of the year, FDI attraction and the disbursement of public investment has witnessed positive changes with total retail sales of goods and consumer service revenue increasing by 10%.
The country is predicted to fulfill the target of welcoming eight million foreign visitors this year. Most notably, some key industrial areas have shown signs of recovery and maintained rapid growth including Hai Phong, Bac Ninh, and Ho Chi Minh City.
According to the NA leader, top priorities should be given to promoting "internal strength", whilst fully tapping into external factors for further development in the future.