Vietnamese economy to go ahead with growth track
Tuesday, 11:51, 29/08/2023
VOV.VN - Andreas Stoffers, country director of the Friedrich Naumann Foundation for Freedom (FNF) in Vietnam, has predicted that the local economy will continue its growth track moving forward.
During a recent interview given to Lao Dong (Labour) newspaper, Stoffers said the Vietnamese economy expanded by 3.72% in the first half of the year. Though lower than last year, it still stood as a positive figure amid the general global economic downturn.
The average consumer price index (CPI) increased moderately by 3.12% on-year in the January to July period, with this declining trend in the average CPI growth over the months being a positive sign indicating the country is on track to achieve the inflation control target of below 4.5% set for the year.
During the initial seven months of this year growth was mainly driven by the retail of goods and services, which rose by 10.4% annually. The industrial production index in July also saw an increase compared to earlier this year.
Attributing these positive outcomes to the fiscal and monetary policies of the State Bank of Vietnam (SBV), he said that the reduction in interest rates is stimulating credit demand whilst enhancing liquidity within the banking system and the economy, particularly in the credit sector. Alongside setting credit growth cap at 14% for this year, the SBV will issue necessary warnings.
In his point of view, Vietnamese GDP growth will exceed 5% this year. Aside from the contribution of FDI, additional momentum will be needed from increased public investment and personal consumption.
Amid facing headwinds such as the Russia-Ukraine conflict; difficulties in Vietnam's partner countries, especially the EU; slow recovery in various markets and the global inflation specter, he said a comprehensive set of solutions is required to both foster further development and manage risks in an effective manner.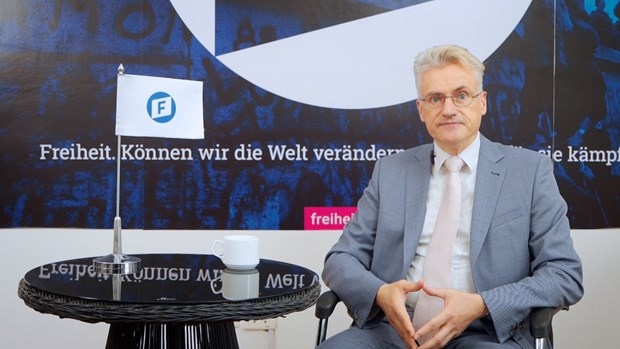 There should be an improvement in the entire financial sector, such as the establishment of a financial centre in Ho Chi Minh City in the medium term. It is equally important is to promote co-operation between the public and the private sector in a bid to generate a collective strength, thereby creating the opportunity to access various financial products and international markets and enabling the public to invest in diverse asset types, he said.
He also suggested a further push for financial education in a bid to help people understand financial products and make careful investment decisions, as well as institutional improvements, particularly in finance.

As a means of achieving these set targets, he said it could be facilitated by Government support through expediting institutional reform, modernising legal frameworks, and co-ordinating policies. The most crucial aspect of this is addressing the weakness in decision-making process that currently exists in certain administrative sectors.
At the same time, there is a need to further increase sustainability, step up circular economy, strongly digitise administrative processes, improve environment protection, and boosting public investment while reducing inefficient structures, especially at State-owned enterprises, is also essential.
To stimulate investment and create liquidity, interest rates could be cautiously lowered further, with subsequent adjustments as the economy experiences significant recovery. Lastly, domestic consumption demand should also be further bolstered, he said.