Vietnamese economy records growth of 6.61% in second quarter
Thursday, 12:58, 22/07/2021
VOV.VN - The nation's economy enjoyed annual growth of 6.61% in the second quarter of the year, with the country's economic growth for the remainder of the year projected to reach between 4.5% and 5.1%, according to industry insiders.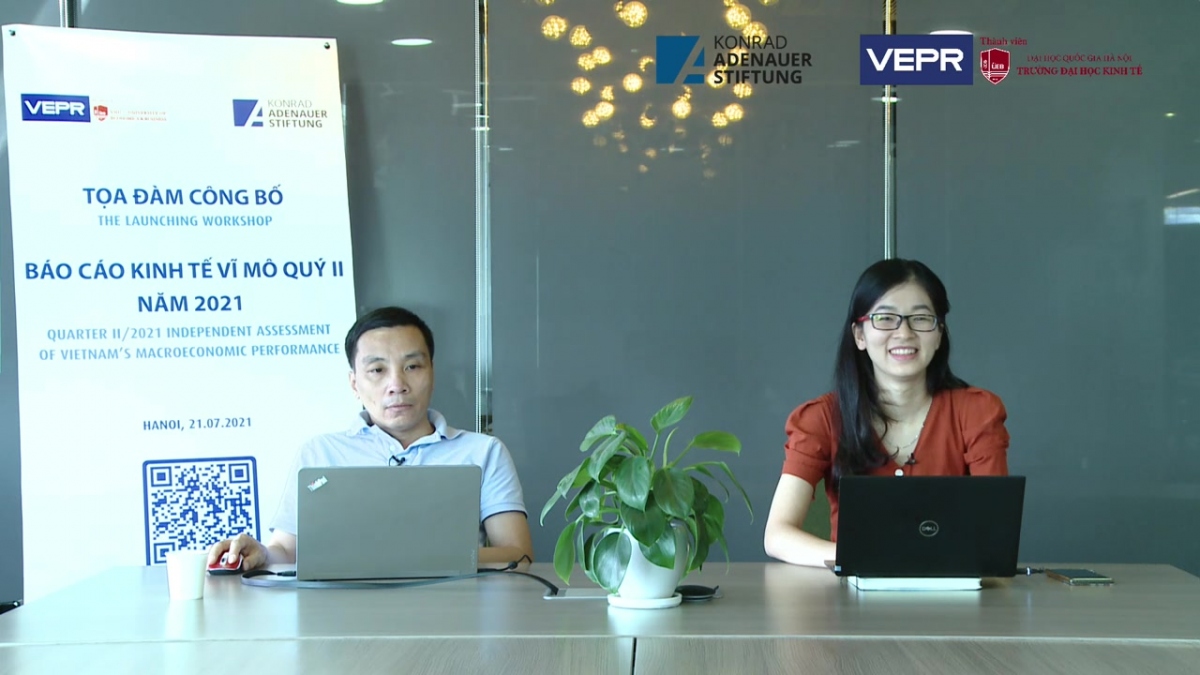 This information was released by experts during the launching workshop of Quarter II- Independent Assessment of Vietnam's Macroeconomic Performance on July 21.
The event was co-hosted by the Vietnam Institute for Economic and Policy Research (VEPR) under VNU University of Economics and Business (UEB) and Konrad-Adenauer Stiftung (KAS) via online platform.
According to details provided by the quarterly report, growth in the agro-forestry-fishery, service, and industrial sectors recorded an increase in the first half of the year with the FDI sector playing a crucial role in economic growth through exports.
Furthermore, due to the impact of the COVID-19 pandemic, local businesses have been forced to bear additional production costs due to a rise in raw material prices coupled with land rental.
Inflation during the course of the second quarter and the first half also increased by 2.67% and 1.47% on-year, respectively, the lowest levels seen since 2016.
Despite this, inflation might increase in the near future due to a rise in food prices, education-related fees, and energy prices fluctuations.
Assoc. Prof. Dr. Pham The Anh has attributed the country's high growth rate to the Government's containment efforts taken to halt the spread of the pandemic, in addition to the reopening of EU countries.
Most notably, local businesses, especially foreign-invested (FDI) enterprises, have moved to take full advantage of the EU-Vietnam Free Trade Agreement (EVFTA) in order to restore production activities and boost exports to the EU market.

Moreover, other factors have also contributed to the growth, including the acceleration of disbursement and key public investment projects, a trend which sees trade and investment shifts to avoid risks from the trade conflict between the United States and China, along with disruption in global supply chains.
Stability of macro-economic environment, along with inflation being kept at a low level, has facilitated the implementation of support policies for economic growth.
However, the fourth wave of the COVID-19 pandemic striking in the middle and end of the second quarter of the year has severely disrupted the production process carried out by local businesses at several pandemic-hit localities nationwide.
Experts from VEPR emphasised the necessity of devising an overall and consistent strategy which can deal with various pandemic scenarios and cope with a shortage of medical equipment in the COVID-19 fight.
The Government and relevant ministries have therefore been recommended to urgently deploy and disburse support packages for unemployed workers, especially those in the non-official sector.
Fiscal policies should primarily focus on speeding up disbursement of large infrastructure investment projects at a national level, along with the implementation of adequate monetary policies in the near future, said economists.