Vietnam coffee exports hit three-year record high
Friday, 11:50, 06/05/2022
VOV.VN - Following impressive growth recorded in the first quarter, Vietnamese coffee exports are projected to continue increasing moving into the second quarter thanks to abundant supply sources and incentives from numerous free trade agreements (FTAs), according to industry insiders.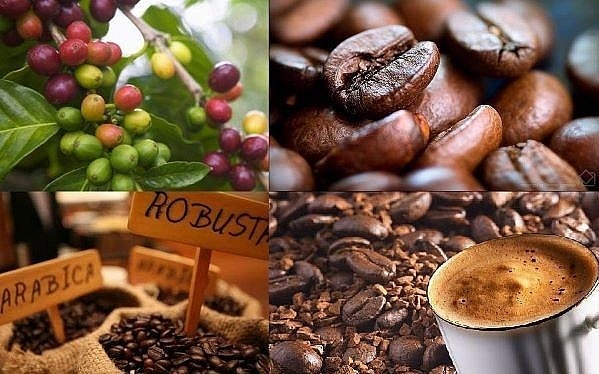 Statistics compiled by the Ministry of Agriculture and Rural Development (MARD) indicate that coffee was among the five commodity groups which boasted an export value reaching over US$1 billion each in the first four months of the year. Accordingly, coffee fetched US$1.7 billion from exports, a rise of 59.4% year on year and a record high over three years.
Experts from the Ministry of Industry and Trade (MoIT) also pointed out that local coffee exports in the first quarter reached a record high thanks to rising consumption demand coupled with favourable customs clearance procedures.
Furthermore, figures given by the General Department of Vietnam Customs show that businesses shipped 581,700 tonnes of coffee abroad worth US$1.3 billion throughout the reviewed period, an increase of 28.3% in volume and up 60.2% in value compared to the same period last year.
Most notably, coffee exports to Europe skyrocketed by 92.6% during the three-month period, and accounted for 54.39% of the total export value, a figure much higher than the 40.71% rate  seen in the first quarter of last year.
Meanwhile, the proportion of coffee exports to Asia dropped from 45.62% in the first quarter of 2021 to 32.7% in the first quarter of this year.
With regard to the Americas, coffee exports to the United States and Canada also endured a downward trajectory.
Vietnam exported 529,200 tonnes of Robusta coffee worth US$1.05 billion, up 33.5% in volume and up 70.5% in value, while Arabica coffee exports reached 20,870 tonnes worth US$94.24 million, representing a decline of 5.1% in volume and a rise of 61.5% in value year on year.
The Import-Export Department under the MoIT reports, coffee prices, after a sharp increase in the first two months of the year, started a downward trend in March and April due to an abundant supply and decreasing demand in the short term driven by high inflation.
However, coffee exports are forecast to grow over the coming months thanks to incentives from FTAs, which have contributed to creating competitive advantages for Vietnamese coffee within the international market.