Suitable local rice prices help to boost exports
Saturday, 17:18, 30/04/2022
VOV.VN - Vietnam offers advantages when its rice is traded in the international market thanks to its high-quality and reasonable prices, according to the Vietnam Food Association (VFA).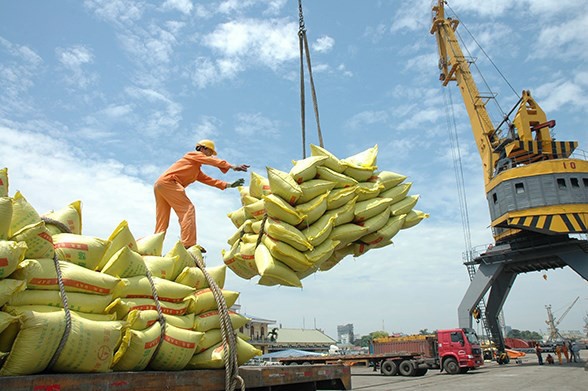 On April 30, a tonne of 5% broken rice of Vietnam was sold for US$415, while the price of the similar rice of Thailand was US$430 per tonne.
Similarly, the prices of 25% and 100% broken rice of Vietnam stood at US$395 and US$360 per tonne, respectively, US$28 and US$45 lower than those of the same Thai products.
These reasonable prices have created advantage for Vietnamese rice exports as global food demand increases amid a shortage of food supplies due to climate change, the COVID-19 pandemic, and the Russia – Ukraine conflict.
Elsewhere, India and Pakistan traded their 5% broken rice at US$373 and US$343 per tonne, respectively. Though the prices are a bit low, Vietnamese rice is said to have outstanding quality compared to their rivals'.
According to details given by the VFA, import demands from traditional Vietnamese markets, such as the Philippines, Malaysia, the United States, Africa, and the Republic of Korea, have started to rise.
Most notably, rice exports to Europe are also expected to surge sharply this year, largely thanks to the 2020 enforcement of the EU-Vietnam Free Trade Agreement (EVFTA). Under the terms of the EVFTA, the bloc will grant Vietnam an annual export quota of 80,000 tonnes of rice and fully liberalise broken rice.
Rice exports are therefore set to enjoy a year of growth in both quantity and quality, providing that Vietnamese enterprises seize upon this opportunity.
The VFA predicted that Vietnam would export 6 to 6.2 million tonnes of rice this year, roughly equivalent to the figures seen in 2020 and 2021. Although the export volume is not anticipated to create a breakthrough, the export value is increasing day by day, elevating the position of Vietnamese rice in the world market.