Proper socio-economic policies required to revive national economy
Monday, 12:42, 27/09/2021
VOV.VN - Slowing COVID-19 vaccination rate, along with travel restrictions, inadequate economic response policies, and limited social support schemes, have significantly affected the national economy, said Jacques Morisset, chief economist of the World Bank (WB) in Vietnam.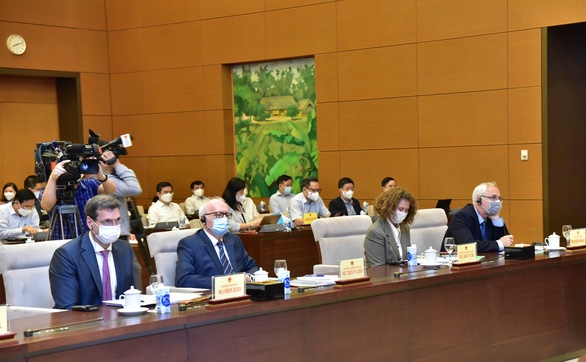 Morisset made this assessment during the first consultation of the 15th National Assembly (NA) on Vietnamese socio-economic issues held on September 27.
The WB expert emphasised that the recovery speed is largely dependent on the size of ongoing vaccination schemes, along with massive COVID-19 testing.
Countries that roll out COVID-19 vaccination programmes in an effective manner are therefore expected to achieve faster growth this year, the WB representative added.
Morisset also underlined the necessity of controlling movement restrictions in a smarter manner, while fiscal and monetary tools and policies should also be governed in a more proactive and flexible way as part of marcorefforts to stabilise the macro-economy.
With regard to social support schemes, the WB economist underscored the importance of boosting economic recovery and resiliency moving forward, with this being achieved through a strong and flexible social welfare system.
He also recommended to continue to fine-tune the legal system, simplify administrative procedures, and effectively use market tools, as well as strengthening the enforcement of legal regulations.
According to Tran Thi Hong Minh, director of the Central Institute for Economic Management (CIEM),  although the Government continues to prioritise macroeconomic stability by implementing tax reduction policies aimed at supporting local firms, there remains a number of hurdles related to supply chain disruptions and high production costs.
She therefore pointed out that unsynchronised pandemic measures in localities, coupled with inadequate policies, have not served to assist domestic businesses to overcome the challenging period in a timely manner.
Concurring with this viewpoint, Pham Hong Chuong, rector of the National Economics University, said that COVID-19 pandemic prevention measures, with their prolonged social distancing period, have greatly impacted supply chains.
These moves have therefore caused a shortage in the local workforce, a lack of material supply sources, high production costs, whilst also disrupting logistics services.
During the course of the event, experts also put forth other policy recommendations and solutions for the country's economic recovery moving ahead to the end of the year.