Catalyst for growth of Vietnam's tuna exports
Saturday, 11:12, 15/01/2022
The three-digit growth rate of Vietnam's tuna exports to Mexico and Israel is considered a catalyst for a strong increase of over 16 percent of the country's total tuna export value in 2021.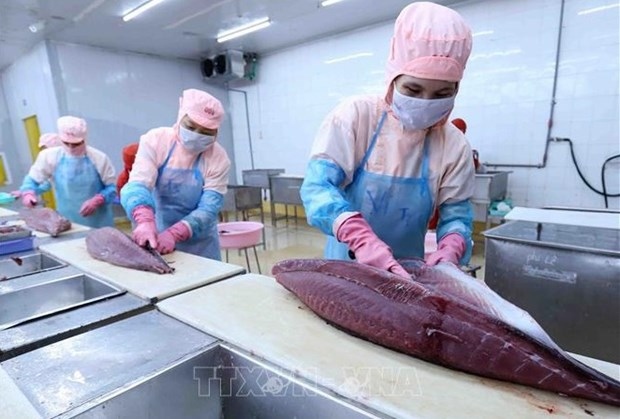 According to the Vietnam Association of Seafood Exporters and Producers (VASEP), Vietnamese tuna is now available in 140 countries around the world. Export of the product earned the country US$757 million last year, up 16.6% year-on-year.

Notably, tuna sales to Mexico and Israel soared by 143% and 201% against the previous year, respectively.
The growth is attributed to producers and exporters' flexible and effective adaptation to the COVID-19 pandemic.
Shipments of most tuna products have increased, except for canned tuna, with tuna loin posting a 41% rise and other processed tuna 14%.

To further develop the tuna industry, VASEP stresses the need to expand its market share to raise competitiveness edge.

It took the Australian market as an example. Vietnam is currently the third largest supplier of tuna for this market, accounting for 1.6% of Australia's total tuna import value. Meanwhile, Thailand and Indonesia keep the first and second positions with 73% and 23%, respectively. While Australia's tuna imports from Vietnam increased by 209%, imports from Thailand decreased by 15% and Indonesia rose by 28%, according to the International Trade Centre.

Most recently, the central province of Binh Dinh has implemented a project on building tuna fishing, preservation, purchase and export chains, with the support of the Japan International Cooperation Agency (JICA). Thanks to this project, tuna products are quickly frozen and exported by sea, so the quality is guaranteed and profit is higher.