Vietnam becomes largest tuna supplier to Israel
Wednesday, 18:31, 15/09/2021
VOV.VN - The export value of Vietnamese tuna exports to the Israeli market by mid-August grew by 34% to roughly US$25 million against the same period last year, accounting for 5.6% of the total tuna export value, according to the Vietnam Association of Seafood Exporters and Producers (VASEP).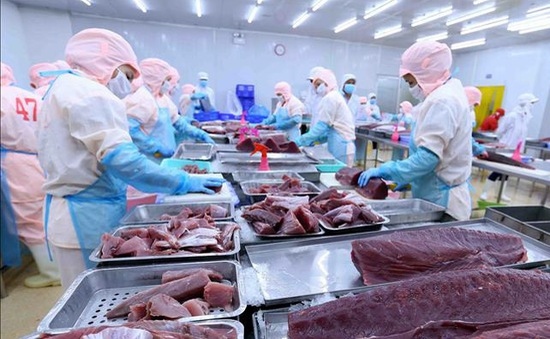 Israel continues to represent the nation's third largest single tuna export market, behind only the US and Italy.
Despite experiencing a decline in 2019, since the end of 2020, tuna exports to the market have consistently bounced back, with the average export price in the market hovering at US$5,464 per tonne.
Most notably, Vietnamese frozen tuna fillets coded HS03048700 remain the key export product in the market, accounting for 47% of the total export value.
According to statistics released by the International Trade Center (ITC), the first half of the year saw the country surpass Thailand to become the largest tuna supplier to Israel, accounting for roughly 31% of their overall import value.
Furthermore, Israel simultaneously reduced tuna imports from other countries, whilst also increasing imports from the Vietnamese market.
At present, there are eight local enterprises, including Tuna Vietnam, Bidifisco, and Havuco which are actively involved in exporting tuna to the Israeli market. 
Despite a wealth of export opportunities for Vietnamese tuna to the market, the local tuna industry is projected to face numerous difficulties due to the fourth wave of the COVID-19 pandemic, with several enterprises reducing their processing capacity.