Businesses advised to select suitable farm produce for export to US
Thursday, 12:46, 13/01/2022
VOV.VN - Vietnamese businesses have been advised to choose suitable products for each customer group to penetrate the US market in the future.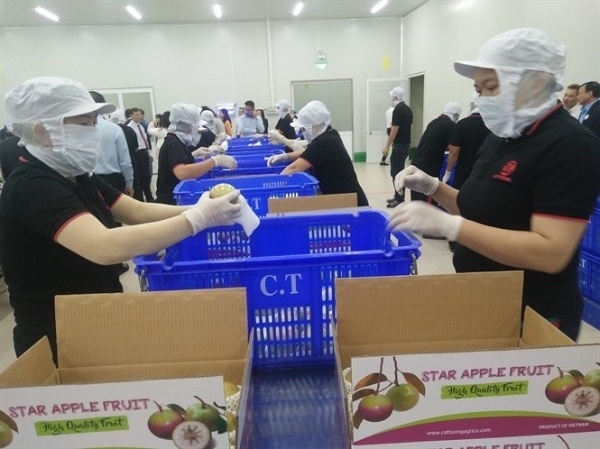 There remains plenty of room to accelerate the export of local farm produce to the US – the world's largest consumer market, which boasts a population of 330 million people.
The US became the largest importer of Vietnamese agricultural products last year with turnover reaching US$11.9 billion, accounting for 27.5% of the country's market share of farm produce, reported the General Statistics Office (GSO).
A representative from the Vietnam Trade Office in San Francisco explained that Vietnamese agricultural exports to the demanding market mainly consist of dried products and were primarily being sold to people of Vietnamese and Asian descent.
Although the US has permitted the export of seven types of fresh Vietnamese fruit, namely dragon fruit, rambutan, mangoes, longans, star apples, lychees, and pomeloes, the export turnover of these fruit remains modest.
The trade official therefore recommended that local firms strive to fully exploit the Latin American market, especially California, which is home to 39% of Latino people.
At present, local agriculture exports continue to face obstacles in meeting standards relating to the irradiation of fresh fruit for export to the US.
The Vietnam Trade Office in San Francisco suggested that Vietnamese businesses choose suitable products such as Doan Hung pomelos or green skin pomelos which can be preserved for a long time to be exported to the market in the future.
Moreover, Vietnamese businesses have also been advised to export frozen food and processed items such as vermicelli and noodles to the market as the COVID-19 pandemic has recently led to Americans to change their eating habits. 
Most notably, local firms are being urged to pay close attention to health standards, with a specific focus on low-sugar products when exporting to the US in the future.