Vietnamese silk embroideries stun international media
Tuesday, 11:45, 30/03/2021
VOV.VN - Foreign website Oddity Central has published an article which showcases a range of amazing hand-made silk embroidery items which are a long-standing tradition of Vietnam.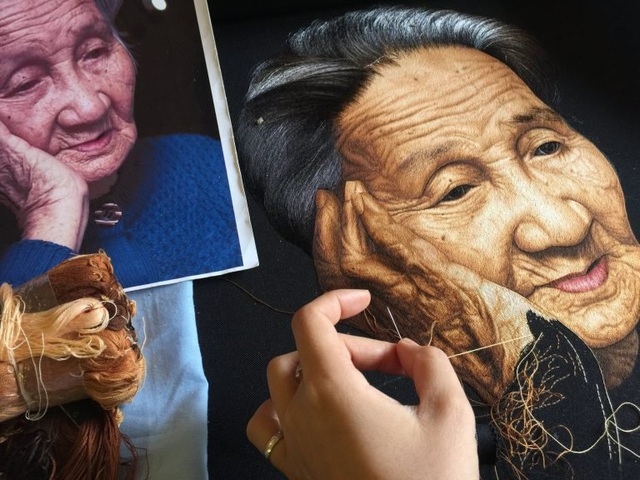 The article opens by stating, "The craft only recently reached its peak, when two artists – an embroider and a painter – decided to combine their skills and found the country's most successful hand embroidery studio."
The website also gives their impressions on XQ Dalat which was founded by Hoang Le Xuan, a talented local artisan who inherited embroidery techniques from her family, along with her husband, painter Vo Van Quan. The couple devised the concept of embroidered paintings and came up with fresh techniques in order to make it a reality.
Most notably, the unprecedented level of realism and detail which is on display throughout the embroidered masterpieces of XQ Dalat have served to bring international success to the small family business. At present the Vietnamese company employs over 3,000 talented embroiders whilst catering for orders from clients globally.
Since its establishment in 1996, XQ Dalat has been dedicated to taking traditional Vietnamese silk embroidery to a higher level whilst simultaneously bringing it to new audiences, the website describes.
Whether customers are keen on traditional flower motifs, picturesque landscapes, or portraits which are highly detailed, XQ's artisans are able to bring them to life by making use of silk thread, along with plenty of patience for the craft.
These days XQ faces lots of competition from other Vietnamese embroidery studios, although the majority are simply imitators, meaning that the business remains the premiere embroidery studio in the country. Indeed, it is not uncommon for artisans from all over the world to come to Vietnam in order to learn the various secrets and techniques which can create painting-like results with the use of thread and a needle.
The website concludes that the only way to truly appreciate the exquisite embroidery produced by the artisans of XQ Dalat is to view their stunning work.