Foreign bands A1, 911 and Blue arrive in Vietnam ahead of music festival
Friday, 12:02, 05/08/2022
VOV.VN - Three famous Western boybands A1, 911, and Blue touched down at Noi Bai International Airport in Hanoi on August 4 as they prepare for their performances at the HAY Glamping Music Festival 2022 slated for August 6.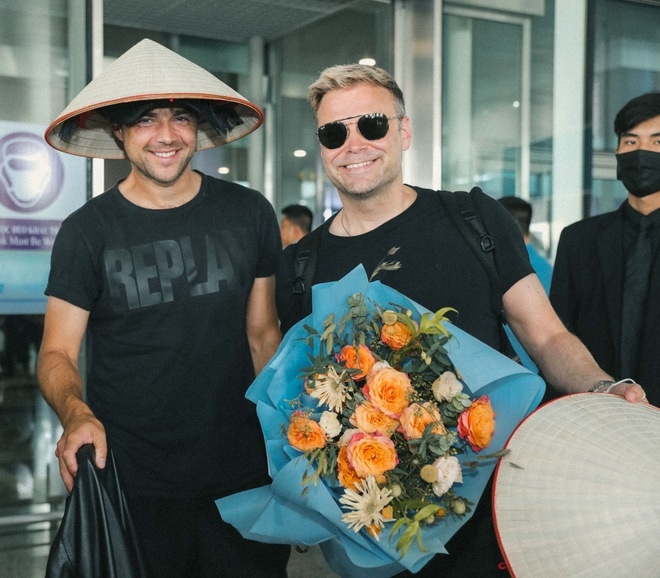 Plenty of fans arrived at the airport early to welcome and meet their idols. Some foreign performers excitedly enjoyed wearing Non La (palm leaf conical hats of Vietnam) and taking photos alongside local fans.
A1 are an Anglo-Norwegian boyband formed in 1998. Their four members released their debut single "Be the first to believe" in 1999 which entered the UK Singles Chart at number six.  
Meanwhile, UK band 911 were established in London in 1995 and released their debut single "Night to Remember" in May 1996.
Founded in 2000, British boyband Blue consist of four members. Several of their hit songs such as "All rise", "One love", "Best in me", "Sorry seem to be hardest word", and "Between you and me" are hugely popular among Vietnamese people.
The three bands will join Canadian pop/rock band The Moffatts at the HAY Glamping Music Festival 2022 which is scheduled to take place at Yen So Park-Gamuda Land in Hoang Mai district of Hanoi from 11 a.m. to 11:30 p.m. on August 6.
The event will feature the participation of 20 Vietnamese and foreign singers and bands. In addition, it will also involve a wide range of activities, such as sports games, an art street festival, and a food festival.