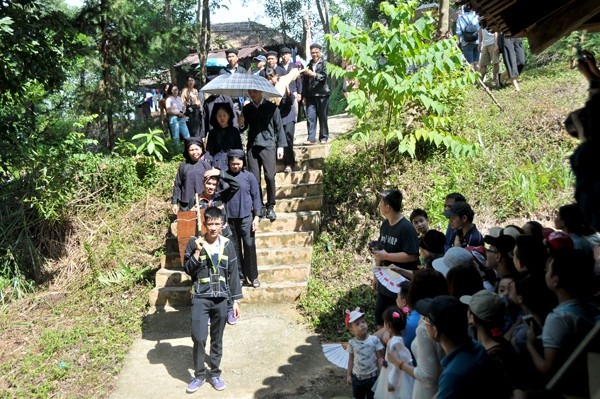 Luon singing sessions at night are also good opportunities for them to find a partner. When a boy and a girl fall in love, the boy's family sends a matchmaker to make a proposal to the girl's family.
Tran Chi Nhan, deputy head of the Culture Office of Hoang Su Phi district, Lao Cai province, says a love proposal is the first step of a marriage.
"At the proposal meeting, the boy's matchmaker asks the girl's parents to allow their daughter to marry. They meet again 10 days later at an engagement ceremony, to which the boy's family brings an offering that includes a rooster, a bottle of wine, and confectionaries. Then they cook the rooster. The rooster's legs are given to a shaman who uses them to predict a lucky date for the wedding ceremony," says Nhan.
At the engagement ceremony, the families discuss what gifts the groom will give the bride's family. The gifts must include a pair of chickens, a pig, 15 to 20 bottles of wine, glutinous rice, and glutinous rice cakes. The groom gives the bride jewelry such as bracelets, silver beads, and silver buttons with which to make her wedding clothes.
"The bride's wedding clothes are the biggest expense. The groom's family gives his parents-in-law some silver coins or money for giving birth to and raising his wife, plus money for the mother's breastfeeding and the grandparent's care," explains Vang Thong Chung, a Nung man in Muong Khuong district.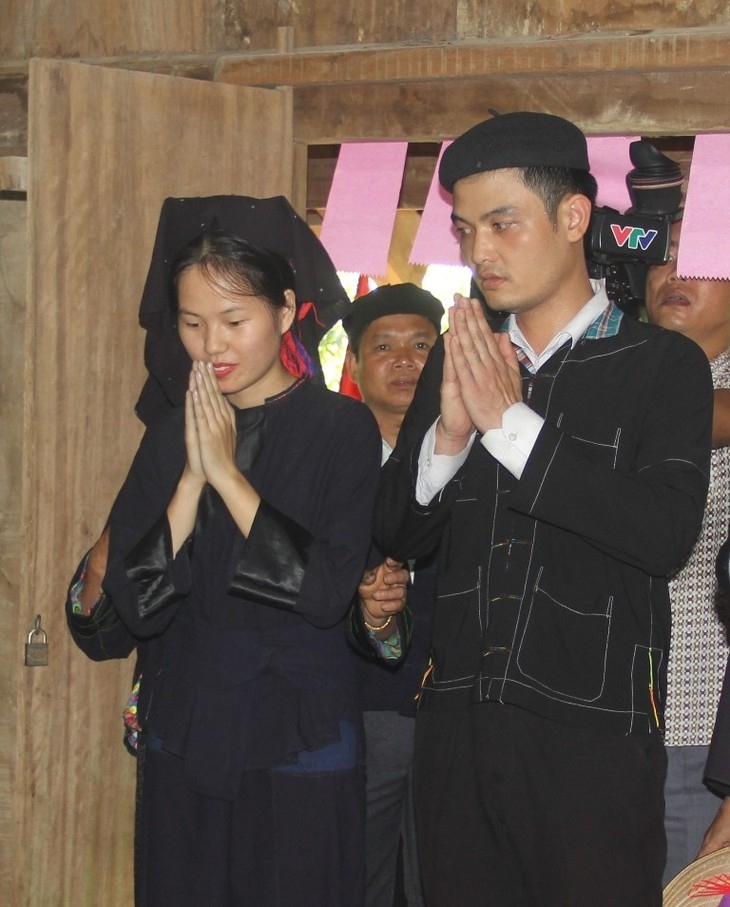 On the wedding day, the groom's family takes the bride to their home. When the groom's delegation arrives at the bride's home, relatives will spray water on them to wash away bad luck before they come inside. The groom places glutinous rice cakes on the altar and burns incense to ask her ancestors to allow him to marry her.
The bride's parents are not allowed to go with the bride to her husband's home. The bride covers her head with a red scarf and the groom holds a black umbrella as he takes her to his home.
"On the way to the groom's home, if they cross a brook, the matchmakers, not the groom, carry the bride across. Until the bride has bowed to the groom's ancestors, she doesn't officially belong to the groom," Nhan says.
Arriving at the groom's home, the bride is given a tub of water and some rice. She goes into the kitchen to boil the water and put the rice on a shelf.  That means she will bring good luck to the groom's family and take good care of the family.
After that the matchmakers burn incense on the ancestors' altar. The young couple bow to the ancestors and the bride removes her scarf to become a member of the family. They go out to have a party with relatives and guests.