Unique Zeng weaving of Ta Oi ethnic minority
Sunday, 10:15, 06/03/2022
VOV.VN - Zeng (brocade) weaving has long played an important role in the spiritual life and culture of the Ta Oi ethnic group in the central province of Thua Thien-Hue.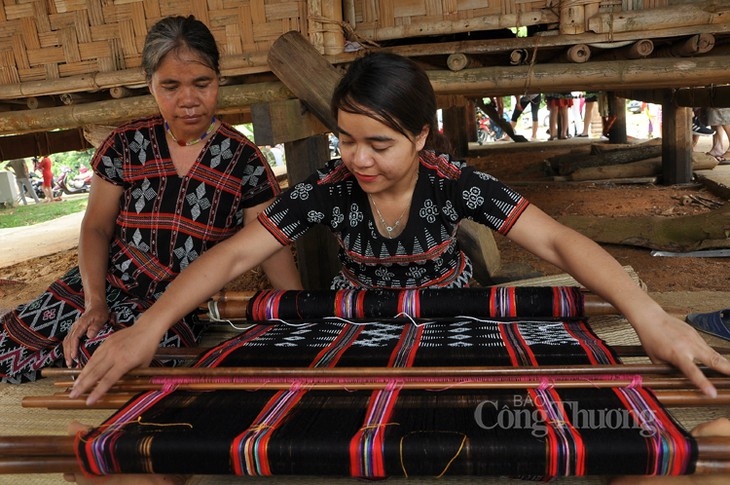 Zeng is used in worshipping, as a love token for couples, or gifts to show gratitude to those who make great contributions to their villages. Therefore, the Zeng worshipping ceremony is an important ritual of the Ta Oi people.
The Zeng worshipping ritual is practiced for important events, such as rice festivals and traditional weddings. The offerings include a Zeng cloth, a boiled chicken, four fish placed on a bowl of sticky rice, two cups of liquor, a cup of water, two mice, a bunch of bananas, a bowl of rice, and some traditional cakes. It must also have two sugar canes hung with 8 brocade tassels.
The ritual is carried out by a sorcerer who invites the deities and ancestors and pray for weaving beautiful Zeng items. It is followed by a traditional dance of the Ta Oi people.
"I worship the deities with a Zeng cloth and pray for their support for my family's business," said artisan A Viet Thi Tam.
Artisan Mai Thi Hop in A Luoi district said that at a Ta Oi wedding ceremony, a big Zeng cloth is hung in the center of the house where the ceremony takes place.
"The bride must bring a Zeng cloth to the groom's house and present it to the ancestors to pray for happiness," said Hop. 
Zeng cloths are carefully kept and considered a sacred item in each Ta Oi family, according to artisan A Viet Thi Tam.
"We dedicate a special Zeng cloth to the God. This cloth cannot be used, washed or given to anyone."
Ta Oi Zeng products are unique and intricate with various patterns made with colored threads and beads. The use of beads shows the skill of an artisan. 
It takes an artisan a lot of time to select the cloth and colors suitable for different items and purposes of use such as carpets or blankets. Many sophisticated Zeng products are made on a simple loom.
"The loom is made from 6 bamboo sticks. It is very simple to use and transport anywhere," said artisan A Viet Thi Tam.
The craft of Zeng weaving has been preserved through many generations. It was recognized as as a national intangible cultural heritage by the Ministry of Culture, Sports and Tourism in 2017.