Rhyming words of the Ede people
Saturday, 10:29, 01/04/2023
VOV.VN - The art of rhyming words of the Ede in the Central Highlands is a folk treasure which has been handed down from generation to generation.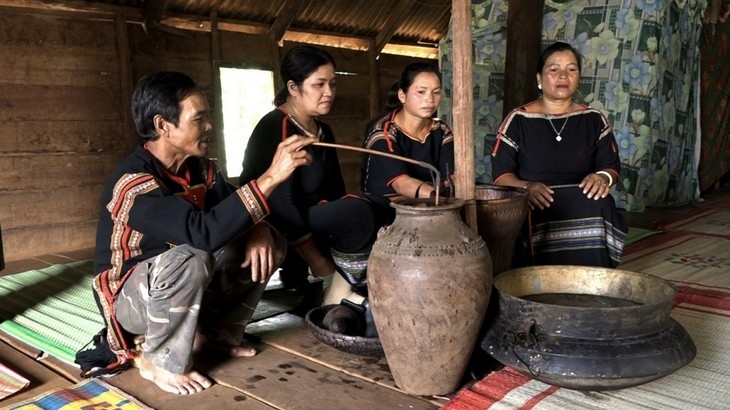 Rhyming words appear in epic narratives and in the worship prayers of the longevity, water, and new rice ceremonies. The rhymes are songs urging people to love the homeland, unite, and help each other, and are also metaphorical songs about love.
Singing rhyming words is common in the daily life and cultural activities of the Ede. It appears in all folklore genres, fairy tales, prayers to gods, customs and norms, riddles, "khan" storytelling, and the "kôt" and "eirei" singing genres.
Linh Nga Nie Kdam, a researcher of Central Highlands folklore, said, "In the past they used customary law to judge people's sins. Ede customary law has 2,000 rhythmical sentences. The kut and eirei folk singing genres are rhythmical."
The Ede  speak rhyming words when teaching children, worshipping, or mourning the deceased. It's unnecessary to have a performing space for rhyming speaking. They speak rhythmically while resting after farm work, collecting water, meeting family or friends, or teaching children.
When they are rhythmically speaking, they often use musical instruments to liven the mood. The performer, depending on the mood, the story, and the circumstance, freely creates rhymes and humming sounds to make the message easier to understand and remember.  
Even an illiterate person can speak rhythmically. H Nai Nie of Ea Tul commune in Dak Lak province shared, "I sing along pieces whenever I have time. I just memorize them. I don't know reading and writing so I can't write them down. I teach the rhyming words to my relatives and whoever wants to learn."
A rhyming word performer often has profound knowledge of the Ede's culture and customs and are well-spoken to convey concisely and succinctly the lessons that the predecessors accumulated over generations.
It can be experience of nature, such as watching the weather to tell the time to plant and harvest and predict good and bad days. It can also be the experience of social interaction, behaviors, customs, and habits.
Artist Y Dhin Niê of Ea Tul commune, noted, "I'm especially interested in the rhymes of folk songs and fairy tales of our ancestors. I was taught by senior artisans, but I still want to learn more. I want to keep these rhymes and pass on to by children and grandchildren."
Ea Tul commune, Cu Mgar district of Dak Lak province is seen as the hub of rhyming word singing with about 300 artisans.
A Mang, deputy head of the Culture and Information Office of Cu Mgar district, said, "Rhyming word speaking of the Ede has been recognized as a national intangible cultural heritage by the Ministry of Culture, Sports, and Tourism. We enhance communication to encourage the people preserve and hand over it to their children."