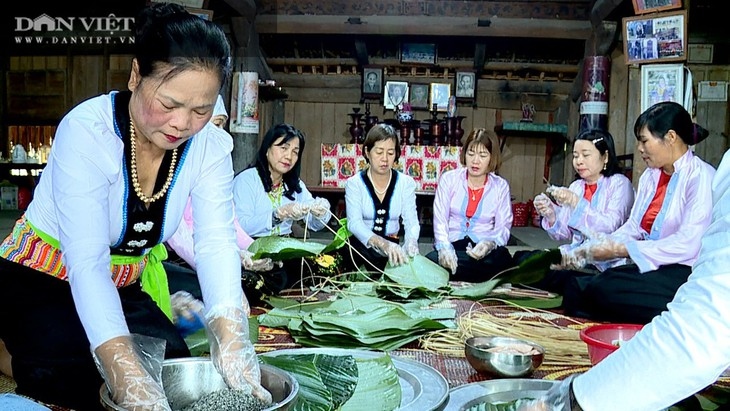 The Muong in Phu Tho's Yen Lap district also prepare medicinal Chung cakes for celebrations like the New Year festival.
Do Thi Man of Huong Long commune says that, rich or poor, a family always prepares a medicinal Chung cake as a worship offering. It's a traditional cake that generations of Muong have made. When they are little, they see their grandmothers and mothers making Chung cakes.         
"I've eaten Chung cakes since I was little. My grandparents and parents picked herbs in the forest, dried them, and ground them to make medicinal cakes. They taught all us young people to make the cakes," said Man.
The Muong carefully choose ingredients for the black Chung cakes: dong leaves, My Lung glutinous rice, green beans, and pork thinly sliced and marinated with salt, chili peppers, and other spices.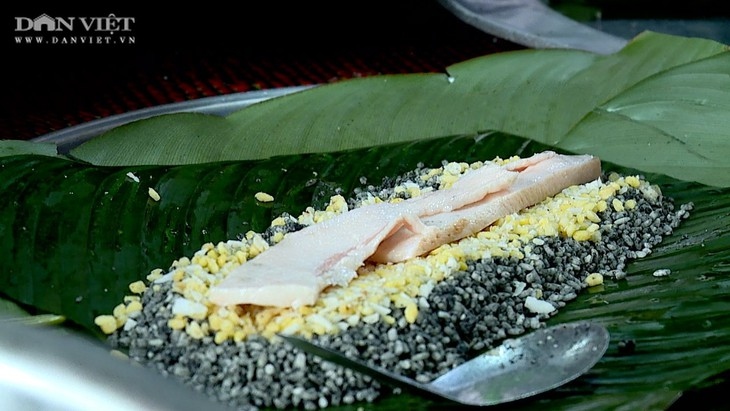 The cake's black color is due to the medicinal herbs they pick in the forest. The leaves are dried in the sun and crushed fine. The powder is dissolved in water and mixed with glutinous rice. These medicinal herbs create a special flavour and help naturally detoxify the body.
Do Thi Man says it takes about 8 to 10 hours to make a black Chung cake. Each family member contributes something: washing the leaves and rice, grinding the pork, cutting the bamboo strips, or wrapping the cakes.     
"At the New Year festival, family members gather around the woodstove to cook Chung cakes. It's a time when grandparents tell their grandchildren about the traditions and history of the group and family, and urge the young people to uphold their traditional culture," said Man.
Medicinal Chung cakes have become popular with tourists who visit the Muong hamlets. They take them home as gifts for their relatives and friends.
"The cake has a unique, delicioustaste. I really love medicinal Chung cakes. They're aromatic and yummy," said Thao Phuong, a tourist from HCM city.