Locals keep world intangible heritage of Xoan singing alive
Monday, 10:32, 01/05/2023
VOV.VN - In December, 2017, UNESCO inscribed Xoan singing, a Vietnamese folk music genre in Phu Tho province, on the Representative List of the Intangible Cultural Heritage of Humanity.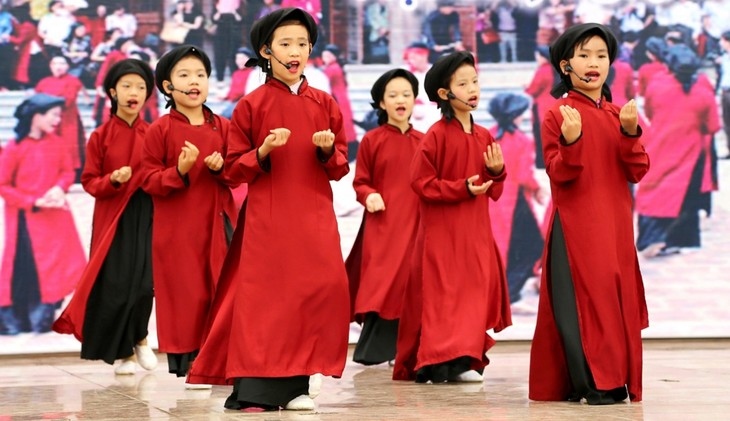 Earlier, Xoan singing was inscribed on the Urgent Safeguarding List in 2011 due to declining appreciation of this tradition, notably among young people. UNESCO said efforts by local communities and the national authorities have reinforced the viability of Xoan singing.
In a small house in Xoan An Thái Ward, Phuong Lau Commune, Viet Tri City, the elders are teaching Xoan singing to the younger generation.
Born in the cradle of Xoan singing, Bui Viet Hao and Bui Nhu Quynh became familiar with the art at a very young age as their grandparents and mother, who are Xoan singers, rekindled the passion in them.
"I learned to sing Xoan at the age of 5. I was inspired by my grandparents and mother. I love singing. I perform Xoan singing in many places. I really want to preserve this music genre."
"My mother, my grandparents and my brother all are members of the Xoan singing troupe. I also love Xoan singing."
Phu Tho province has promoted on the practice and transmission of this folk music genre and trained more than 100 successors, who now can teach Xoan singing.
In local villages, there are three generations of singers. Last year, additional 13 Xoan singers in Phu Tho were bestowed with the title "Meritorious Artist" by the State President.
Among them are Nguyen Thi Bien and Bui Thi Luong, who live in Xoan An Thai ward, Phuong Lau commune, Viet Tri city.
"It's indescribable. I'm very happy. Not only me, but everyone in the ward is very happy that the Party and the State pay attention to our effort."
"We have been recognized as Xoan singers. We are determined to teach, preserve and never let this heritage be lost."
Phu Tho has upheld the community's role in preserving the traditional singing dating back thousands of years when the Vietnamese nation was founded by the legendary Hung Kings.
From the original Xoan troupes, the folk music genre has been spread throughout 13 districts, towns and cities. There are now 34 provincial Xoan singing clubs with over 1,500 members, 23 times higher than before 2011, when Xoan was inscribed on the UNESCO Urgent Safeguarding List.
Xoan singing is also practiced at 64 district-level clubs and 42 commune-level clubs with thousands of participants.
Pham Thi Bich, a member of Xoan singing club for the elderly in Minh Đài commune, Tân Sơn district, said, "Before joining the club, I did not understand much about Xoan singing and did not know how beautiful it was.  Now, I have found that the lyrics are humane. They describe the daily life and production of the people a long time ago. Xoan singing has kept its tradition for us to cherish."
To familiarize the younger generation with Xoan singing, Phu Tho province has included it in schools' music lessons and extracurricular activities. Contests and performances of Xoan singing have been held.
Student Nguyen Chau Anh of Gia Cam Primary School, Viet Tri City, shared,"At first, I found it very difficult, because we did not understand the songs, but day by day, during activities outside of our class or in the club, we have all learned and have become familiar with Xoan songs."
Bui Thi Tuyet Mai, a teacher of Gia Cam Primary school, noted, "The teaching of Xoan singing has been included in the general education program since 2018. I hope that the ancient Xoan singing tunes will be preserved and promoted in schools throughout the province."
Phu Tho has renovated all communal houses and shrines where Xoan singing is performed and turned them into local signature tourism products.
Nguyen Dac Thuy, Director of the provincial Department of Culture, Sports and Tourism, said, "We will continue to expedite the project on preserving Xoan singing of Phu Tho province, which focuses on improving cultural heritage preservation space and organizing more music classes. We continue to study and collect materials to restore rituals and practices, and finalize publications. In particular, we will complete the audio recording of Xoan songs for dissemination to the general public and teaching in schools."
From the ancient communal house yards, today, Xoan singing now can be heard echoing all over Phu Tho province, Vietnam's ancestral land, connecting the community and amplifying the beauty of Vietnamese folk art.