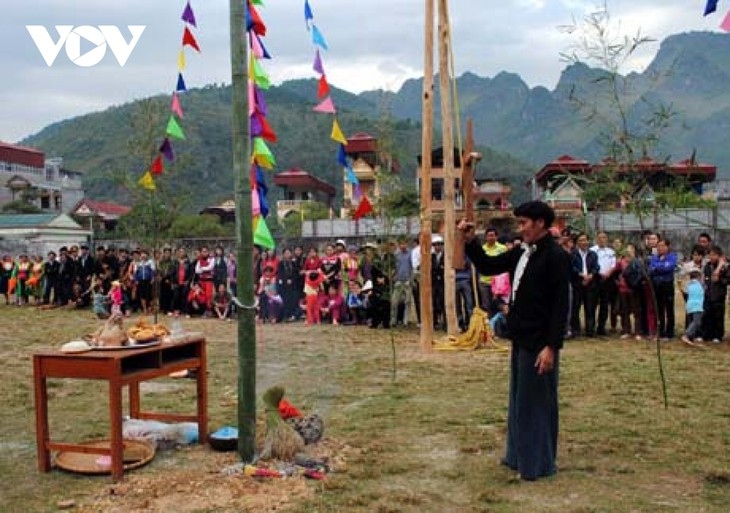 The Mong in Ha Giang celebrate their Gau Tao spring festival from the 3rd to the 6th day of the lunar New Year to thank the Jade Emperor and other deities for blessing them with health, happiness, prosperity, and bumper crops. Couples who cannot get pregnant attend the festival to pray for having children.
"In the past the Gau Tao festival was hosted by married people who couldn't have children. If they subsequently had children, they would organize another ceremony to thank the Jade Emperor and other deities and invite all the villagers to come share their happiness, and pray for the happiness of all people," says Vang Chan Giao, a Mong man in Thanh Van commune.   
One week ahead of the festival, people erect a Neu pole in the middle of the village. The Neu pole, a tall bamboo pole decorated with red paper, is believed to chase away evils.
"First, we choose a person to host the festival. Second, we pick a bamboo tree which is about 7 m tall. We plant the Neu pole in an open space and decorate the surrounding area to inform people of the festival," says Giao.
"Before planting the Neu pole, a shaman conducts a ritual to thank Heaven and Earth and hangs a bottle of liquor and a sheaf of rice from the top of the Neu pole to represent prosperity and a red cloth to represent good luck," he adds.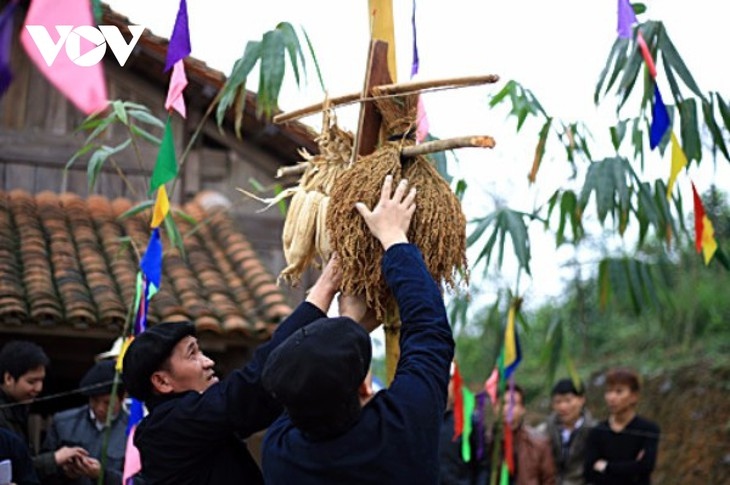 The festival follows the Neu pole ceremony and worship of the deities. Young men compete to climb the Neu pole to retrieve the bottle of liquor, the rice, and the red cloth.
Vang Minh The, a young man in Thanh Van commune, notes, "Due to the COVID-19 pandemic, this year's festival was cancelled. The Gau Tao festival is a meaningful event for the Mong. We have fun and compete in many folk games. I hope the festival will continue to be held every year so people can pray for good luck and prosperity."
The Mong attend the Gau Tao festival to have fun and strengthen their community through folk singing, dancing, and games. In recent years Ha Giang province has organized the Gau Tao festival with certain variations to attract tourists. Vang Chan Giao said he hopes the festival will retain its traditional features so young Mong people will understand their culture.
"I've attended the Gau Tao festival in some localities which have introduced variations. I think the festival should be held with all its original features so the Mong people will value it and tourists will be inspired to explore Mong culture," says Giao.