Ede brocade tells new story
Sunday, 16:34, 29/05/2022
VOV.VN - Brocade weaving has been revitalized in many hamlets in the Central Highland province of Dak Lak which helps preserve traditional culture and contributes to the local economy.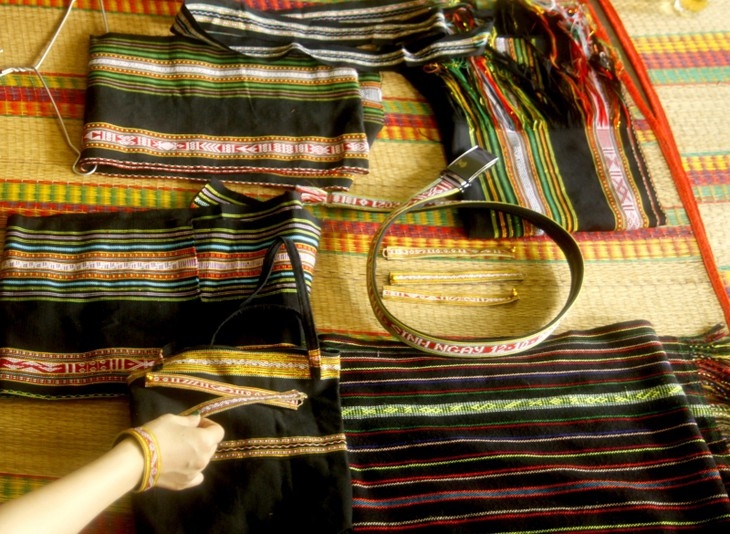 Ede women have creatively combined traditional brocade characteristics and new materials to diversify their products and supplement their income. 
In the house of HLer Eban in Kniet hamlet, three tailors are attentively making clothes for an order of staff uniform for a restaurant in Buon Ma Thuot city. The uniform set has a black shirt and skirt with hand-woven brocade patterns on the collar, sleeves and hem.
Tailor H Yan Bkrong says brocade weaving has been her main job for more than ten years. and three generations of her family can weave brocade fabric. 
HPhe Be BKrong, a 23-year-old student of Dak Lak Teacher Training College, notes income from brocade weaving helps her cover study and living expenses.
"I can make all patterns on shirts and skirts. Each pattern has its meaning. The craft requires perseverance, diligence, love for the job, and the desire to preserve cultural tradition and costumes," confides BKrong. 
Ede brocade weaving has diverse products such as crafts, wallets, bags, belts, tablecloths, and wall decorations for restaurants and hotels. Modified brocade costumes are also available for customers who want to preserve traditional characteristics on their outfit.
HLer Eban, owner of Ami Sia Tailor's in Kniet hamlet, says she sells about 40 sets every month, with prices ranging from US$17 to US$45 per set. Social networks help her contact customers in other provinces and overseas Vietnamese in the US and Australia.
"I will not only refresh costumes of the Ede, but also weave brocade patterns on the Ao Dai traditional long dress to create more uniqueness. If I receive orders from Ao Dai tailors, I can generate more jobs and income for artisans," explains HLer Eban.
Many localities in Dak Lak province have formed brocade weaving cooperatives. They use both machines and manual looms to produce a range of products and ensure stable work for the locals.
Director of Tong Bong cooperative, H Yam Buon Krong, says that last year they earned revenue of roughly US$53,000 and paid a monthly salary of US$150. Their products are sold many other provinces. The cooperative is developing community tourism and a homestay.
"We need to diversify designs and products such as dresses, bags, and wedding outfits. In the past they wore brocade clothes at festivals. But now people use brocade products daily. We aim to develop community tourism and introduce brocade products to them," says H Yam Buon Krong.
Brocade weaving shows not only Ede women's ingenuity, but also their dynamism and creativity to turn brocade into a commercial commodity and source of income.