Drum-breaking Festival of the Ma Coong
Sunday, 22:24, 26/02/2023
VOV.VN - Beating drums until they break is a special festival of the Ma Coong ethnic people in Quang Binh province to pray for favorable weather, bumper crops, a prosperous village, healthy people, and no diseases.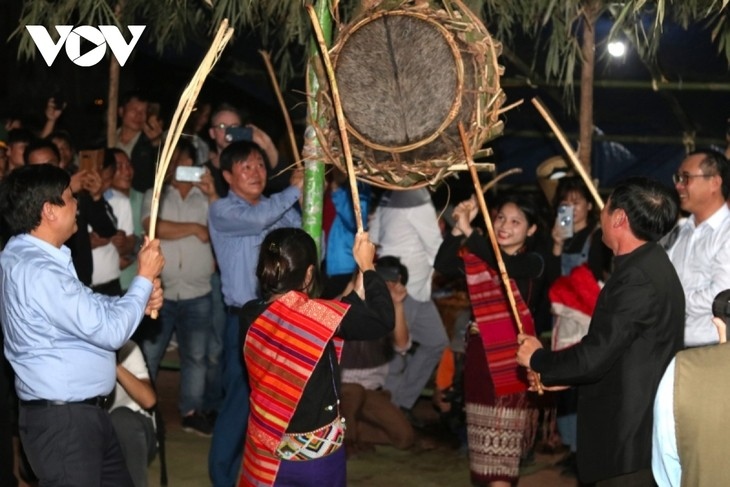 When the drums are beaten to open the festival, all people gather around a big wood fire and drink alcohol from a big vase. Young men try to outdo one another in beating the drums as hard and as fast as they can to break the drums. Other people hold each others' hands and dance around the fire.
Under the full moon and by the flickering fire, the Ma Coong people take turns beating the drums, drink alcohol, dance, and chant "My God, we're so happy!"
The sound of drums is a spiritual, magical sound, like the voice of the Ma Coong people in the middle of the deep forest, uninhibited by wind, rain, and beasts. Village chief Dinh Xon said "The festival prays for good fortune for all villagers. Everyone enjoys the festival. We have to uphold our tradition and develop it for the younger generation."
Peter, a Danish expert on cultural heritages and sustainable development in Vietnam, said "This is the first time I've attended the drum-breaking festival. It's fantastic. The custom shows the relationship between nature and humans. It's necessary to preserve this festival for the cultural diversity of ethnic groups in Quang Binh province."
About 3,000 Ma Coong people live in 18 hamlets in Thuong Trach commune in the middle of UNESCO-recognized Phong Nha-Ke Bang National Park.
In 2019 the Ministry of Culture, Sports, and Tourism recognized the drum-breaking festival of the Ma Coong as a National Intangible Cultural Heritage. The Department of Cultural Heritages has worked with local authorities to train the community on preserving heritages and give them necessary equipment and drums to practice the festival.
Nguyen Huu Hong, vice chairman of the People's Committee of Bo Trach district, revealed, "We pay special attention to promoting the cultural values of the Ma Coong and the drum-breaking festival. The district has plans to restore the festival's original characters."
Dinh Du of Ca Roong 2 hamlet, says the drum-breaking festival is also called the night of love festival for unmarried people:
"The custom is to beat the drums until they are broken. The festival is a chance for boys and girls to make friends and date. They may become husband and wife," explained Dinh Du.
When the rooster crows and the sun rises, the drum-breaking and the love-night festival end. Ma The Coong people begin a new production year. Many couples become husband and wife after the drum-breaking festival, including Vietnamese-Lao cross-border couples.