Xe Dang ethnic people celebrate New Rice Festival
Sunday, 22:04, 29/01/2023
VOV.VN - On Solar New Year's Day, the Xe Dang people in Cu M'gar district, Dak Lak province, celebrate the New Rice Festival, the biggest annual worship ritual of the ethnic group in a year.
Families in Kon H'ring hamlet start cooking in the early morning on New Year's Day. Their worship offerings include glutinous rice in bamboo tubes, liquor in vases, pork, chicken, rat meat, and bitter tomato soup.
"For the New Rice ceremony, we make glutinous rice in bamboo tubes and fry sour young bamboo shoots with pork," says H'Veu who cooks for the ceremony. "Banana trees will be sliced, mixed with rat meat, and grilled. I will bring the food to the communal house where all the villagers will eat together."
Rat meat is an indispensable dish offered to the Gods during the New Rice Festival. Xe Dang people believe that rats destroy crops, so they should be captured and sacrificed to the gods, so that rats will not dare to damage their crops any more.
A Quan, who traps rats in the forest and in terraced fields, says, "I often live home at mid-night and return at 7 or 8 a.m. I set about 50 traps."
Vi Von, head of Kon H'ring hamlet, recalls in the past the Xe Dang lived in Kon Tum province, and due to the wars they migrated to Dak Lak province in 1988.
In the past the Xe Dang celebrated the New Rice Festival within families or with some neighbors from October to December. Since 1994 the New Rice Festival has become a community festival. Every family prepares food and brings them to the communal house to enjoy together.
"We celebrate the New Rice Festival on the first day of the year because at that time we complete harvesting rice and coffee. We gather once a year to share the happiness, talk about our production and experience, and strengthen community bond," elaborates Von.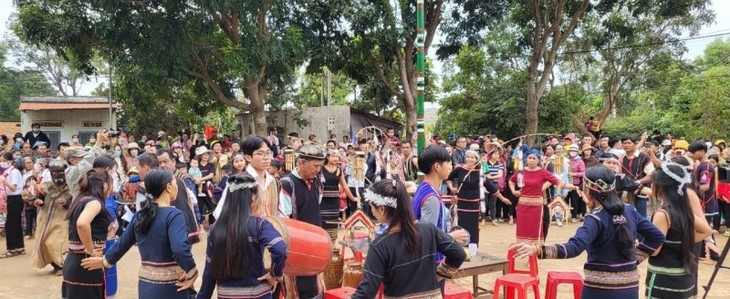 When they hear the sounds of gongs welcoming guests, people gather in the yard of the Kon Hring communal house to attend the ceremony. In a solemn atmosphere, senior villagers raise the offerings, pray to the Heaven and Earth, and invite gods and ancestors to the ceremony. They pray for bountiful crops next year.
"We pray that next year rice will grow as strongly and beautifully as the grass in the forest and sugarcane in the garden. All people passing by want to ask for rice seed. We pray for favorable weather, healthy people, happy family, and the children's good learning," says Von.
After the ritual, people liquor in vases through bamboo tubes, dance, sing, and play folk games. All villagers and guests become closer with each other in a joyful New Year festival. 
The villagers and guests dance together to share the happiness of a bountiful harvest and hope for a better New Year.